Southlake Tailgating - The Ultimate Suburban Picnic
Aug 29, 2012 01:14PM ● By tina
Nothing brings the Southlake community together quite like Dragon Football. How else would one explain the fact that a city of 27,000 had to expand its home field seating of the high school football stadium to accommodate its fan base?

After a long summer hiatus, when Southlake does get back together in the fall it is generally over a smoky barbeque grill and a well-equipped parking lot picnic. On any given Friday expect to see your neighbors, your friends, and their neighbors and friends who will all be in attendance at the game. With five home games on the schedule and the all but expected run through the playoffs there will be plenty of opportunities to catch up with friends and meet and greet those whose blood has not yet reached a shade of green.

Over the course of the entire Dragon season we (loosely) estimate that 100 percent of Southlake residents will attend a tailgate. We admit this survey may be slightly skewed, as most respondents would not publicly affirm not attending a single football game. No matter the event, home or on the road, when it comes to tailgating Southlake has perfected the recipe for the ultimate Suburban Picnic and this is how we do it:

Invite a lot of people
No need to curb the list as Southlake takes more of a shotgun approach to invitations. Thanks to a $4.6 million expansion Dragon Stadium increased its home side seating capacity an additional 1,600 fans for 2010. Now with close to 11,000 seats, not including the throngs of kids who play on the grassy knolls, it is quite probable that half the city can easily find a place to sit for each and every home game.

Show up Early
According to research at Tailgating.com the majority of tailgaters (51%) show up three to four hours prior to kick-off. In Southlake however, it is common to see fans reserving the best parking spaces twenty-four to forty-eight hours in advance. The most common items used to save a space- RVs, travel trailer grills, camping chairs, and pop-up tents. These early risers will spend the better part of a Friday afternoon enjoying their space and readying their grills for the incoming Dragon Nation. Good news for procrastinators, with the pre-purchase of a prized Dragon Zone parking space you can show up late and still find the perfect space next to the stadium. However, if there is nothing left on your friend's grill by the time you arrive, it's your own fault.

Everything but the kitchen sink
True tailgaters treat their party like a competition and try to boast the most elaborate settings possible. Propane and lump charcoal grills and mesquite wood smokers team up with chicken wings, ribs, and burgers to fan the flames of many a heated rivalry of "can you top this grill." Barbeque professional and founder of Southlake's Rusted Truck Ranch Kyle Clark has this to say, "For tailgating, I prefer finger foods. Grilled chicken wings are a great option. They are easy to prep, inexpensive and you can make a large batch without much effort. Also, there is less set-up when you serve them and that allows people to grab a bite and a napkin, and snack away."

It's the suburbs and if you want to keep up with the proverbial Jones' than you will need more than just good food. Obviously this means its time to convert your slice of the lot into a veritable Dragon Den complete with everything but the kitchen sink (we suggest wet wipes for their portability). Because five star ribs deserve five star accommodations the best Southlake tailgate parties come complete with a variety of lounge chairs, picnic tables, turf carpets and shaded tents - both pop-up and staked.

Remember the key to any team's ultimate suburban tailgate is to have it all. It follows that whoever eats the best only wins half the battle, but eating well with all the comforts of home including satellite television, iTunes and the Dragon radio broadcast will be the team who gets the "W."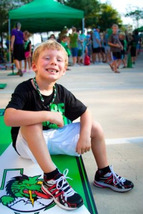 What to wear–
Despite whatever the hot colors for fall may be, the basic wardrobe of any Southlake resident always includes Dragon green. Save for a black state championship t-shirt the nation is typically adorned with anything and everything green from shoes, ball caps and shirts to the not so obnoxious green hair and fingernails.

Photo buttons and club sponsorship t-shirts are a must for Dragon parents who can be found in a wide variety of apparel honoring their child's favorite pastime. Don't yet have a player on the field or in the stands? Don't worry; there are plenty of t-shirts and logo items to show your spirit. However, when it comes to wearing Dragon Pride there may be no prouder moment for a parent than donning the number of their favorite player. Dads may be found on the sidelines in a t-shirt with the number on the back, but it's the moms and their crystalized player jerseys that are arguably the height of game-day fashion.

Game Day Atmosphere
Just as important as what you wear, how your dress up your tailgate is not a detail to be overlooked. Dragon flags adorn car windows, trailers and antennae reaching high into the sky – not only do they show off your true colors, but they serve as a high altitude calling card to where the party is really at. Dragon chairs, welcome mats, themed balloons, and streamers - pretty much anything goes and the sky is the limit. Not wanting to serve green meat, team colored deserts may be the most popular way to have your spirit and eat it too. Last but not least, a Dragon themed game of cornhole is not only fashionable, but functional as well.

Beyond Southlake and even beyond football, tailgate parties have become a true American pastime. Each year, according to the American Tailgaters Association, as many as 50 million roaring fans gather in parking lots across the country. But when it comes to team and community spirit all rolled into one, there's just no place like our home.