Tony Winner Breaks Sales Records
Sep 19, 2012 08:49AM ● By Mike
War Horse at the AT&T Performing Arts Center has already sold over $1M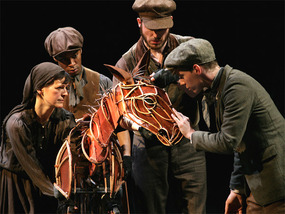 The current engagement of the international hit play War Horse, now playing at the AT&T Performing Arts Center, has set a new record as the most successful play (non-musical) in Dallas history.  
The final ticket sales total for the 16 performance War Horse engagement has yet to be determined as the engagement continues through Sunday, September 23. But with more than $1 million in ticket sales to date, War Horse has already surpassed the Pulitzer Prize-winning play August: Osage County which became the highest grossing play ever to appear in Dallas when it played at the Winspear Opera House in 2010.
Comparative sales figures are according to industry trade organization The Broadway League.
"We are so thrilled to have this critically acclaimed piece of theatre at the Center and are proud of Dallas theatre-goers for coming out in record numbers to experience this marvelous show," said AT&T Performing Arts Center Acting President and CEO Doug Curtis.
War Horse builds on the Center's recent record-breaking ticket sales success with its Lexus Broadway Series.  Les Misérables set the all-time ticket sales record for a musical during its recent engagement at the Winspear Opera House, and business for the Center's five week engagement of Jersey Boys was brisk as well.
War Horse continues at the AT&T Performing Arts Center through Sunday, September 23.  Tickets range from $30 to $150, with prime seats for most performances priced at $85.  Tickets may be purchased online at www.attpac.org/warhorse or by phone at 214-880-0202, or in person at the AT&T Performing Arts Center Box Office at the Winspear Opera House, 2403 Flora