Remembering Brian Stebbins
Oct 03, 2012 01:33PM ● By Mike
City Hall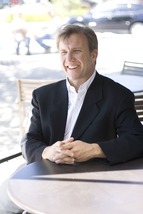 On October 2, 2012 Brian Stebbins passed away at the age of 55.  The beloved architect of Southlake Town Square  is survived by his wife Pattie, son Carter and daughter Jenna.
Built upon a farm in the middle of a rural suburb, Southlake Town Square has become an award-winning mixed use facility that houses retail, entertainment and city government activities as it encourages the sense of small-town community amongst the vibrant city of Southlake, Texas.
For thirteen years and counting residents and visitors alike enjoy a special experience built in no small part by Stebbins' visionary brilliance. A loving husband, father and friend to our city he leaves behind much more than the bricks and mortar which make up this prized development.  He leaves a legacy of community involvement that has and will continue to shape the city for many years to come.
Even though the words below were written almost three years earlier, we find it fitting to re-publish our editor's letter from the December 2009 as we gratefully remember the magnitude of his accomplishments. 
Timing is Everything - originally published December 2009
In late January 2006− as a wannabe publisher− I was excited by the level of enthusiasm Brian Stebbins had for my interview request. I still clearly remember his spotless, fire engine red Dodge Viper pulling up to my front door. I was uncomfortable with the fact my first interviewee was chauffeuring me ,but Brian said "hop in," and just like that− I was off on my personal guided tour.
Years later, I now realize my timing could not have been better. Brian and his firm Cooper & Stebbins, were set to celebrate the completion of the Grand Avenue District, the third phase of his highly successful development, and I would be publishing this as my first-ever feature story.
During the interview and tour, Brian wowed me with his detailed knowledge and the scope of his project. He also impressed by listening to me speak of developing a publication about a city, that before his project, would have been better suited for an almanac than a glossy magazine. But I would quickly come to learn that Brian was committed to his project, committed to the city and an entrepreneur all the way.
I am often asked how I came up with the idea to publish a lifestyle magazine for Southlake. Honestly, the idea of building a lifestyle worth publishing was Brian's vision well before the reality of it all- smacked me upside the face. By the time my plan was on paper, Brian had already relocated his family and his business, had become a community leader as well as a philanthropic catalyst and had all but cut the ribbon on over one million square feet of community spirit. Again, good timing, I merely snapped a photo of it all.
As a transplant circa 2004, Brian Stebbins gave me a place to call home and a job to boot− covering the vibe of a city chock full of his spirit. His vision has affected my life and the lives of my children, just as I am sure it has affected all who live, work and play in Southlake. His work has provided us the space for our city government and community events like Home for the Holidays and Art in the Square. It has given us the backbone for strong commerce and the highest financial ratings possible… while his heart helped maintain excellence in our schools through his support of the Carroll Education Foundation.
This December marks a major milestone in completing the vision we have had for Southlake's Premier Lifestyle Magazine. Honoring the city through our first ever "Best of" party and extending our inaugural Southlake Style Community Impact Award to Brian Stebbins, the man behind Southlake Town Square, has been an overwhelming experience. Again our timing is perfect, as there is no better time than right now to recognize Brian Stebbins for his accomplishments and thank him for bringing his STYLE to our city.