Trailer Talk: Movies To See This Weekend
Oct 04, 2012 12:01PM ● By Mike
Tim Burton's Frankenweenie opens this week
There's something for everyone at the movies this weekend! For the men, the action-packed Taken 2, for the ladies, Liam Neeson looking heroic in Taken 2 and for the whole family, Tim Burton's Frankenweenie.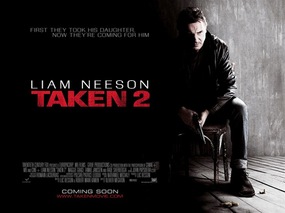 Taken 2 brings Bryan Mills (Liam Neeson) back for another round as he faces the same Albanian gangsters he took down last time as they prepare to seek their revenge on the ex-CIA agent. This time, the bad guys are after the whole family, but it doesn't matter- Bryan Mills has skills!
Expect intense car chases, hand-to-hand combat, and this time around, his daughter Kim (Maggie Grace) gets a part of the action when Bryan himself is taken hostage.
If you have kiddos, better get a babysitter for this one, or head to Harkins Theatres in Southlake Town Square where they provide an on-site "PlayCenter" for children ages 3-8 for only $6. That's less than the cost of your movie ticket!
Or, take the kids to see Frankenweenie 3D (also available in 2D), Tim Burton's black and white, stop-motion comedy.
The film is a comedic tribute to the 1931 film Frankenstein about a young boy, science nerd Victor Frankenstein (Barret Oliver), who loses his furry best friend, Sparky, to an auto accident before he is ready to say good-bye. Victor conducts an experiment similar to one he has performed in science class involving an electrical current to bring his pup back to life.
Victor tries to hide his furry pal from his family and friends, but problems abound after Sparky escapes and people discover Victor's scientific talents. The ensuing tale is both heartwarming and humorous. Fans of Nightmare Before Christmas will certainly enjoy this film and fans of Burton get a more in-depth look into one of his first films that he created for Disney early in his career. The film also features the voices of Catherine O'Hara and Winona Ryder, who starred in Burton's 1988 classic, Beetlejuice.
Tickets and showtimes available for these films and more at www.harkinstheatres.com.