Kenny Do It Again?
Oct 05, 2012 10:25AM ● By Mike
Kenny Do It Again? - 13 reasons we say YES!
Dragon Pride 2012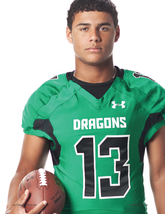 October 1st, 2010 – Kenny Hill, then a sophomore made his first ever start for Southlake Carroll. No small feat considering the lineage of signal callers whose collective pictures line the halls of the Dragons' indoor facility.
Thrust into mid-season action under less than perfect circumstances, the young boy whose prior game experience was freshman football turned into a man right before our eyes.  In the span of fifteen months Kenny Hill grew from the ranks of third string sophomore to Texas 5A Offensive Player of the Year while leading his team to its eighth state championship in just his junior season.
In keeping with tradition, the expectations for this year's team are nothing short of success.  Now considered a wily veteran, and to our knowledge the most experienced Dragon quarterback in the team's 5A history, Kenny Hill is leading the Dragons to a second straight and unprecedented 9th State Championship.
In this article we count down our top thirteen reasons why #13 can do it again: 
13. He is a product of the Southlake System – starting with youth football and culminating with varsity games attended by thousands, Southlake keeps its children and the entire community engaged from the very first experience.  Once in the system, young boys are coached through a grass roots regime all the while underlying the Varsity edict to "Protect the Tradition."
12. Experience- because of the system and its tradition of excellence across the country Southlake is notorious for a seemingly never-ending line of high caliber quarterbacks.  Even with a lineage that includes NFL'ers, Heisman contenders, state champions and more than a few national players of the year and - no 5A Dragon quarterback has ever been a three-year starter. Nobody, that was, until Kenny Hill.  Having never even suited up for a JV game, he entered his senior season with a 26-4 record.  That's 30 starts more than current NY Jet and University of Alabama great Greg McElroy had entering his senior year.
11. Coaching- no one person is bigger than the system, not even the forefathers of Dragon greatness- head coaches by the names of Bob Ledbetter and Todd Dodge formed the successful foundation now carried forth by the reigning National High School Coach of the Year - Hal Wasson. With 25years of experience and a State Championship of his own The Silver Fox has planted his flag atop the mountain. Not to mention, he helped coach his own son, Chase- the Dragon's first ever 5A State Champion quarterback.
10. Leadership – a more unpretentious and discreet persona, Kenny has led by example both on the field and off.  During his tenure he has built a very strong rapport amongst his teammates and coaches.
9. Head – "The game has really slowed down for Kenny," says Coach Wasson referring to his quarterback's football IQ and firm grasp of the playbook.  With each successful start he has added ever more confidence in what he and his teammates can do on the field. 
8. Arm – The son of Ken Hill, a Major League Baseball pitcher for 14 seasons, has a gun just like dad. In addition to the sheer power necessary for deep routes and lightening quick out patters he has the ability to also finesse a ball into the hands of his receivers. His mechanics and accuracy have lead to an impressive completion percentage of 68 percent heading into his senior year.
7. Legs – despite not being the fastest quarterback in recent memory, Kenny's legs are still a force to be reckoned with.  Opposing defenses are kept in check with his trademark up-field power-rushing. Behind returning All-District linemen Cam Manning and Alec Deutsch Kenny was the team's leading rusher in 2011 with 1,399 yards and 24 TDs.