Carroll Cross Country Teams are State Bound
Nov 07, 2012 10:49AM ● By tina
Lady Dragons Cross Country Advances from Regional to State Meet
Boys and Girls Win 5A Region-I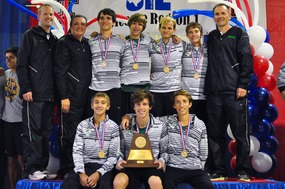 The Southlake Carroll Boys and Girls teams advance to the State Championship in Round Rock, Texas, on November 10th.  They came away with 1st place in Boys and Girls at the 5A-Region-I meet in Lubbock on a cool windy day and high altitude. The race took place at Mae Simmons Park and is known for its steep hills, gravel and unforgiving course.
"I'm very proud of both, the boys and girls teams," said Justin Leonard, Southlake Carroll Cross Country Coach.  "They really stepped up today and came out to the course here in Lubbock and punched their ticket to the state meet.  They have been waiting for this week for a year now."
With nearly 200 regional competitors, the Lady Dragons won the title with 39 team points, followed by Lewisville Marcus with 99 points and Lewisville Hebron with 103. 
Southlake Carroll Boys bring home the 1st place finish with 35 team points, Lewisville Marcus with 111 points and El Paso Eastwood with 113.
The top 3 teams and top 10 individuals from each region advance to the State Meet in Round Rock, Texas on Saturday, November 10th.
Lady Dragons – 3 Mile                                      Dragon Boys – 3 Mile
2nd Courtney Kriegshauser     17:28               3rd Joe Sansone                      14:59
3rd Shelby Chapin                   17:36               4th Nate Sullivan                     15:03
9th Tig Archer                          17:47               7th Connor Hendrickson         15:15
11th Elena Arriaza                   17:49               8th Trevor Gilley                      15:24
17th Maddie Keen                   18:27               20th Jacob Pickle                    15:41
18th Katie Burnham                 18:28               21st Eli Canal                           15:46
36th Taylor Ullmann                19:13               39thAlec Garner                      16:07
For more results and photos, visit Carroll Cross Country.