North Carolina Artist Named Featured Artist of 2013 AITS
Jan 24, 2013 08:41AM ● By tina
South Park Splendor by Greg Barnes
By Tina Auten, Staff Writer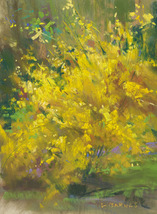 Known for his extraordinary use of natural light in landscapes, North Carolina pastel artist Greg Barnes has been selected as the Featured Artist of the Year for this year's annual Art in the Square presented by Southlake Women's Club. A few of his pieces will be featured at an upcoming kick-off event in Southlake Town Square on February 17 that is open to the public.  
Receiving his formal training at Wake Forest University, Barnes earned a BFA in 1985 after studying painting, printmaking, sculpture, and figure drawing.  His career path after college included technical illustration, computer graphics, computer-based training, and multimedia programming.  During those years, Barnes kept his brushes and charcoal close at hand.
Following 9-11, Barnes and his wife took a leap of faith when he decided to embark on a full time fine art career.  He quickly found portrait work, which eventually led him to pastels.  A few weeklong plein-air workshops set him on his current course.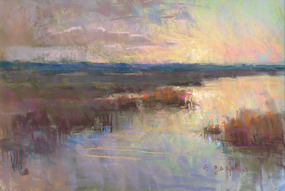 Landscapes are his love and Barnes enjoys painting on location.  As a result of working quickly, he leans towards impressionism.  A mix of realistic and impressionistic elements give his pieces a life of their own, while a free and creative use of color punctuates his style.  Barnes currently splits his time between painting in his studio/gallery in Charlotte, NC, selling at national art shows around the country, and teaching.
The 14th annual Art in the Square opens Friday, April 26 in Southlake Town Square.