Trailer Talk: Movies To See This Weekend
Jan 24, 2013 01:35PM ● By tina
Mark Wahlberg and Russell Crowe star in Broken City
Mark Wahlberg and Russell Crowe join each other on the big screen in the newest gritty crime thriller, Broken City, premiering at Harkins Southlake 14 Theatres. 
In Broken City, New York City Mayor Hostetler (played by Russell Crowe) hired disgraced ex-cop-turned-private-detective, Billy Taggert (played by Mark
Wahlberg), to follow his wife and find out who she's having an affair with. After Billy starts investigating the Mayor's wife (played by Catherine Zeta-Jones), he finds himself involved in a bigger scandal than he ever expected. By the time he figures out the Mayor's true motive, he finds himself in too deep and must do whatever it takes to expose the truth and get out with his freedom- and his life.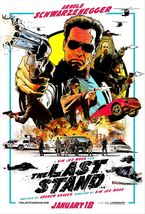 Arnold Schwarzenegger's latest flick, The Last Stand also premieres at Harkins Theatres. This action film stars Arnold as Sherriff Ray Owens, a former LA narcotics detective who takes over as Sheriff in the small, quiet town of Sommerton- quiet, that is until a violent cartel boss, Gabriel Cortez (played by Eduardo Noriega) decides to use Sommerton as his exit into Mexico after a snatch-and-grab scene in Las Vegas. With Agent Bannister (played by Forest Whitaker) on his heels, the only thing that stands between Cortez and the border is Sherriff Owens.
In addition to the action, Johnny Knoxville and Luis Guzman join Arnold for some comic relief. Reminiscent of the action thrillers from the '80s and '90s that put Arnold on the map, this is a must-see for all fight-scene aficionados.
For those action-addicted moviegoers, head to Harkins Theatres this weekend to check out both films and be sure to bring your Loyalty shirt and cup for free medium popcorn and $1.50 refills.  For more information on movie times and the Loyalty Program, visit Harkins Theatres.