Celebrity Chefs Serve SafeHaven
Jan 24, 2013 04:14PM ● By tina
Celebrity Chefs 2013 courtesy Mike Lewis Photography
Celebrity Chefs 2013 - Mike Lewis Photography [11 Images]
Click Any Image To Expand
By Tina Auten, Staff Writer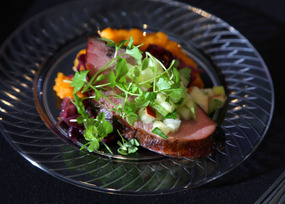 Over 400 guests enjoyed a fun and elegant evening of culinary bliss at the 7th Annual Mid-Cities Supporters of SafeHaven Celebrity Chefs 2013.  Held at the Hurst Conference Center the event featured masterful creations from 17 area chefs, raffle tickets for gift packages, and a live auction with exclusive chef packages. 
The crowd was entertained by master of ceremony Scott Murray and thanks to the persuasive powers of auctioneer Dan Holmes, the live auction raised over $80,000 to benefit SafeHaven, an organization dedicated to providing support for women and children impacted by domestic violence.
SOS president Deanna Stuart, event chair Katie White and SOS vice president Tara Hutchins-Welsh and their team should be congratulated for this five star event.  Team members include Viv Ann Blair, Patti Campbell, Laurel Harty, Renny Hostetler, Janice Kane, Fonda Martin, Mary MacDowell, Jodie Munsie, Martha Ragsdale, Kathy Rynearson, Lynda Sanders, Kathleen Steinsberger, Deanna Stuart, Judy Waitkus, Velma Walker, Katie White, and Jane Wood.
Returning Chefs
Chef Hans Bergmann - Cacharel Restaurant and Grand Ballroom Arlington
Chef Jon Bonnell- Bonnell's Fine Texas Cuisine, Fort Worth
Chef Otto Borsich - Central Market, Southlake
Chef Susan Clark - Sweet Memories Cakes & Catering, Keller
Chef Ed Esquivel - Wildwood Grill, Southlake
Chef Jason Harper - Trio Cafe, Colleyville
Chef Kyle Jones - Truluck's Seafood, Steak and Crab House, Southlake
Chef Brian Olenjack - OLENJACK'S Grille, Arlington
Chef Michael Swirczynski & Sally Bolick-Strong - Bravo!! Catering & Event Planning, Southlake
Chef Donatella Trotti - Nonna Tata, Fort Worth
Chef Chris Wilson (Auction Only) - Market Street, Colleyville
Chef Charles Youts - The Classic Café of Roanoke
New Chefs
Chef Robert Bleibtrey - Hurst Conference Center, Hurst
Chef Deb Cantrell - Savor Culinary Services, Arlington
Chef Janet Capua - Z's Cafe, Fort Worth
Chef Andrew Huszar - Tastefully Yours, Southlake
Chef Bob Stephenson & Chef Carlos Arevalo - FnG Eats, Keller
Photos courtesy Mike Lewis Photography