Celebrating 2012 With Style
Jan 24, 2013 04:48PM ● By tina
4th Annual Community Impact Award presented to Jack D. Johnson Family - photo courtesy of BluDoor Studios
Southlake Style's Best of 2012 Celebration - photos courtesy of BluDoor Studios [12 Images]
Click Any Image To Expand
By Tina Auten, Staff Writer
Over 150 guests gathered to celebrate and remember Jack D. Johnson, founder of Dragon Nation and recipient of Southlake Style's Community Impact Award, at the 4th annual Best of Party and Awards Reception held in the Hilton Southlake Town Square on Friday, January 18th.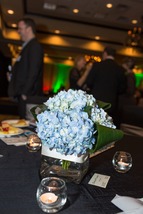 Guests were treated to sophisticated evening featuring hors d'oeuvres, signature cocktails from Svedka, and live entertainment by members of the Carroll Jazz Band at this annual celebration presented by Sewell Cadillac of Grapevine and First Financial Bank of Southlake. 
The culmination of the evening came when publishers Mike and Nicole Tesoriero presented the Community Impact Award to members of the Jack D. Johnson Family.  In a moving acceptance, grandson Jeff Croy shared a few anecdotes with attendees about his late grandfather, who recently passed away at age 85. 
Established in 2009, the Community Impact Award celebrates long-standing and positive contributions to the community by individuals or organizations.  Past recipients include Southlake Town Square developer Brian Stebbins, community organizer extraordinaire Judge Brad Bradley, and Southlake Women's Club which hosts one of the top art festivals in the nation, Art in the Square, and donates proceeds to charitable organizations.