Southlake Based Men's Salon Opens 10th Location
Jan 31, 2013 08:59AM ● By tina
Southlake's The Boardroom Salon for Men
The Boardroom Salon for Men [4 Images]
Click Any Image To Expand
By Tina Auten, Staff Writer
Originally founded in 2004 by Southlake residents Bruce & Heather Schultz, they designed their high-end salons to provide a stylish yet comfortable and masculine place for men to enjoy a variety of men's grooming services.  Starting with the very first location in Southlake Town Square, The Boardroom Salon for Men has become the definitive relaxed grooming experience for men in North Texas and is opening its tenth location this week at Alliance Town Center in Fort Worth.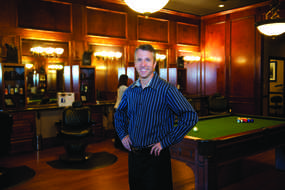 The Boardroom Salon for Men was Bruce's transition plan from a successful career in corporate America to entrepreneurship as a business owner.  Combining their extensive corporate and community service backgrounds along with prior business ownership, Bruce and Heather set out to create a business that would excel at meeting the needs of their clients and employees.
A friendly, highly skilled team of professionals help men look and feel their best by combining exceptional hair, shave and spa services with superior client service.  The ambiance of The Boardroom evokes the feeling of a 1920's country club with its dark wood paneling, plush leather chairs, pool table, and complimentary beverages.  Clients escape into an elegant era from the past and leave behind the trials and tribulations of the day for an afternoon of tranquility.
Their plan was to open two to three salons; perfect the business set up, operational and client experience, and then offer franchise opportunities to energetic, intelligent, passionate individuals looking to grab their piece of the American Dream.
Today The Boardroom Salon for Men has locations across the Dallas-Fort Worth area as well as The Woodlands.