Trailer Talk: Movie Previews for Feb 8
Feb 07, 2013 10:57AM ● By tina
Jason Bateman and Melissa McCarthy star in director Seth Gordon's latest comedy, Identity Thief
If you're a fan of films like Horrible Bosses, head to Harkins Southlake 14 Theatres to check out director Seth Gordon's latest comedy, Identity Thief.
Jason Bateman stars as Sandy Bigelow Patterson, a Denver businessman who has always been responsible financially, and Melissa McCarthy stars as Diana, a sly con artist who lived the good life on Sandy's dime after stealing his identity in Orlando, Florida.
Upon learning that his credit score is shattered, Sandy discovers he only has one week to find and bring Diana to justice before the damage is done for good. Hilarity ensues as Sandy finds Diana and attempts to drag her 2,000 miles back to Denver to save his credit and way-of-life in this outrageous comedy. Sandy's struggle to get the fraudster to Colorado to face justice isn't their only problem- Diana has made some other enemies that are hot on their trail.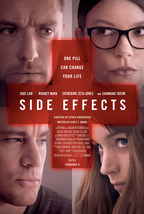 Also premiering at Harkins Southlake 14 Theatres this weekend is the psychological drama-thriller, Side Effects. Emily and her husband Martin, once a successful power couple living in New York, are struggling to adjust to life after his recent release from prison. After being diagnosed with clinical depression and suffering trauma from a car accident, Emily visits a psychiatrist who prescribes her the newest prescription drug to hit the market to help with her anxiety.
Unfortunately, Emily finds it harder and harder to tell the difference between reality and fantasy after taking the medication. When someone ends up dead in Emily's apartment, the investigation begins to examine her illness, her psychiatrist and the medication he prescribed to her.
Whether you're in the mood for a good laugh or craving intense action and drama, Harkins Southlake 14 Theatres has the movie for you this weekend. And if you have kiddos, don't worry about finding a sitter- just drop them off with Harkins Theaters' finger-printed and background-checked staff for less than the cost of a movie ticket while you check out the film of your choice.
For ticket and movie information, please visit Harkins Theatres.