Luxury Review - Sonos System
Feb 13, 2013 11:28AM ● By tina
The Sonos Wireless HiFi System
Wireless earpieces have been connecting us with our telephones for years and Bluetooth technology is pervasive, connecting us to all of our digital devices either at home, at the office or in the car. As technology continues to advance the conveniences of wireless technology has really begun to mesh with high fidelity audio.  At the forefront of turning Wi-Fi into HiFi while easily making the most of your digital music collection is the Sonos wireless HiFi System.
With component speakers ranging from $299 to $399 each, the Sonos system is far from the least expensive, but it is considered by many as the most complete and easy to use, multi-room solution available.
What was once a daunting task of hard-wiring whole home audio speakers to powered amps and receivers and then connecting them to your varied music devices is now as easy as one-two-three. Sonos is sold as a suite of devices that each come together to bring music to your ears wherever they may be.
If you already have a home theater system you love, Sonos can help maximize your current setup with the addition of a CONNECT module. By integrating your current stereo into a wireless streaming system, Sonos allows for the best of both worlds; complete flexibility between wired and wireless speakers.  
Go completely wireless with the Sonos Play:5, the all-in-one unit consisting of five integrated speakers and digital amplifiers provides ear drenching sound for even the largest living rooms.  When the need to expand outside of the living room arises the Sonos system has you covered.  With the addition of the Sonos BRIDGE, you can instantly connect to your home's wireless router creating a complete network strong enough to stream music within and even around your home and patio.
With the bridge in place, you can connect as many Sonos speakers as you deem necessary. It is at this point that the smaller, sleeker Play:3 speakers become the perfect compliment to your home and outdoor wireless music needs. Configured with three integrated speakers and three digital amplifiers the Play:3 speakers can be arranged either vertically or horizontally to accommodate any space from bookshelves and sofa tables to just about any nook where extreme sound is desired. Made in a simplistic yet fashionable black or white gloss finish, the system components can accommodate any décor.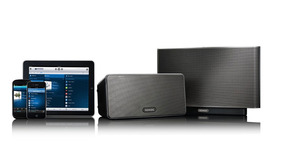 Specs:
Play:3 Speakers: $299
Play:5 Speakers: $399
Connect: $349, $449 (with amp)
BRIDGE: $49