Trailer Talk: Movie Previews for Feb 13
Feb 13, 2013 02:19PM ● By tina
Pack up the family and head to see this weekend's Escape from Planet Earth, a new alien animated comedy
Touching down at Harkins Southlake 14 Theatres this weekend is the new alien animated comedy, Escape from Planet Earth.
Escape from Planet Earth tells the story of two blue alien brothers, Scorch and Gary Supernova, who are astronauts and heroes to their fellow blue aliens of their planet Baab. Scorch and Gary manage many daring rescues through BASA, Baab's version of NASA, with Scorch serving as the brawns and Gary as the brains of this dynamic duo. After hearing of a distress call from a "dark planet" called Earth, Scorch hurries off to help the planet in need, despite warnings from his rule-following, do-things-by-the-book brother.
Once Scorch arrives at Planet Earth, he is taken captive and Gary must find a way to save Scorch from the very planet he was trying to help. Pack up the family and head to Harkins Theatres to see if cautious Gary has what it takes to rescue his brother, his family and their planet this weekend! If you're taking the whole family, make sure to bring your Loyalty cup and t-shirt for discounted refills and free popcorn!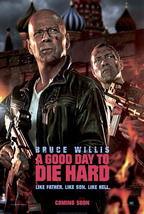 If animated comedies aren't your genre of choice, check out the latest installment in the Die Hard movie series starring Bruce Willis, A Good Day to Die Hard in Harkins Theatres' exclusive Cine Capri theatre. This action-packed thriller follows John McClane to Moscow as he heads overseas to bring his estranged son, Jack, back for a scheduled court appearance. Upon arriving in Russia and finding Jack, John finds himself in the middle of car chases and shootouts with his son and the Russian mob. Stop by Harkins this weekend to see how this father-son duo uses their different strengths to escape the grasp of Russian terrorists and save the day. Yippee-kay-yay! 
For more information on movie times and ticket prices, please visit Harkins Theatres.