Local Flavor
Feb 18, 2013 11:44AM ● By tina
The Chilean Sea Bass is grilled to perfection at Southlake's Bonefish Grill
Gone Fishing
Southlake's Bonefish Grill tips the scales when it comes to flavor.
Regularly eaten by the healthiest companions at the dining table, ordering fish at a restaurant generally means checking your taste buds at the door. This is not the case at Bonefish Grill, Southlake's newest fish "dishery." Well-known throughout the country, this Florida-based chain delivers unique fresh catches from all over the globe. Recently opened in the Shops of Southlake, the chef-inspired salsas and sauces at Bonefish Grill let you have your fish and flavor, too.
Turning through Southlake's only restaurant with a revolving front entrance added an immediate hint to the unique and well-planned ambiance to come. The suburbs are left behind as you come face-to-face with a large grouping of communal pub tables, which give off more of a "big-city" vibe. Multiple television screens don't overpower you when you walk through the door and with a bevy of eclectic beverages like the white cranberry-inspired Winter White Cosmopolitan ($7.90), we suggest an early arrival to enjoy a drink menu that is as fresh and inviting as the day's catch.    
Heading through the dining room, the warm and casual atmosphere is taken up a notch by the attentive care of a staff all clad in white chef coats. In the back of the room, an expansive picture window gives a subconscious nod to coastal views, even though the restaurant is miles away from any coast.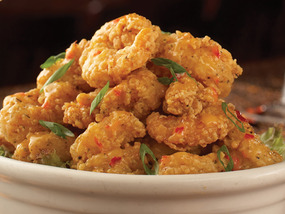 Seated and ready to eat, we didn't have to think twice about ordering the signature Bang Bang Shrimp ($8.90) and their house ceviche ($7.90).  Both were extremely flavorful, however, our table preferred the light citrus- and cilantro-infused taste of the ceviche over the creamy and spicy signature fried shrimp. We all agreed that most everyone would find be able to find a starter they would love. 
Even though grilled filet mignon and other grilled turf options are available, for dinner we took our informative waiter's advice and ordered the special Rhea's Icelandic Arctic Charr ($21.90) and the Chilean Sea Bass ($23.30 small), both wood-fired. The mild salmon flavor of the Arctic Charr was accompanied by a tangy lime and tomato garlic sauce. Topped with sautéed spinach and lump crab meat. it was a filling and flavorful combination. Finished in our choice of the classic Chimichurri sauce of extra virgin olive oil, fresh parsley, garlic and red pepper, the sea bass was light, a little spicy and firm in texture.
Leaving room for dessert is a must, and if you must, the flourless Macadamia Nut Brownie ($5.90) with vanilla ice cream topped with a sweet and tangy [tart? Never heard raspberries described as tangy] raspberry sauce is always a great choice.
From the very first step to the last bite, the new Bonefish Grill in Southlake provides a fresh and exciting seafood experience that adds plenty of flavor to the culinary landscape of our area.