European Romance Closer Than You Think
Feb 18, 2013 02:54PM ● By tina
A romantic vineyard setting is just four hours south of Fort Worth in lovely Fredericksburg. Photo courtesy of Trish McCabe Rawls
Travel - Romantic Destinations
February is the month to celebrate love and Valentine's Day has the entire country contemplating how to show those we care about exactly how we feel.  Nothing conjures up thoughts of romance more than the European meccas of love, Paris and Venice.  And when there isn't time to a cross "the pond" a European-inspired couples retreat is but a few hours from our home.  Here's two Texas cities that prove romantic travel may be closer than you think.
Paris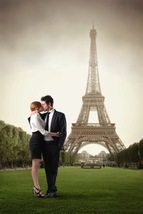 With so much art, architecture and fine dining, it is easy to see why so many consider the capital of France, as the most romantic tourist destination in the world. From strolling through the Louvre, experiencing a river cruise or simply enjoying Foie Gras with your loved one, a nice glass of wine seems to compliment the most starry-eyed activities in a place filled with love.  Believe it or not, wine preceded all that we know and love about France.
Dating back to the 6th century BC, early Greek settlers of the southern regions of Gaul had two main objectives; spreading their religious beliefs and the cultivation of wine producing vineyards. Through the middle ages, the French Revolution and World War II, the production of wine across all thirteen regions still prevails. In fact, each year as much as eight billion bottles of French wine are produced, second in the world only to Italy.
Want to share the romance of wine closer to home?  Try Fredericksburg a romantic hot spot located about four hours south of Fort Worth.
Fredericksburg, Texas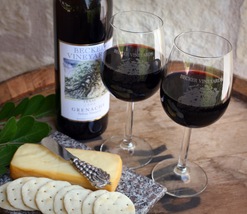 Both lovers of wine and those looking for quality time can enjoy the Texas Hill Country to experience the beauty of Texas wildflowers, rolling hills, winding country roads and of course more than thirty wineries that call the region home. The members of the Texas Hill Country Wineries each embrace their own personality, terroir (their vineyard's unique blend of natural characteristics) and winemaking style to wow more than five million area visitors each year. 
Despite the large volume of tourists, the region still has a slower more romantic pace thanks to the more than 350 bed & breakfasts, guesthouses, hotels and locally owned accommodations to fit your version of a romantic getaway.
When it comes to shopping, Fredericksburg has got it all. Visitors can peruse more than 150 boutiques, shops and art galleries. The historic Main Street is alive with shops, galleries, restaurants and music. Fredericksburg is fast becoming a popular live music destination with numerous venues that book regional and national artists. The charming city is home to over twenty art galleries and studios offering breathtaking oils, watercolors, sculpture and more.
Tucked away amidst the quaint German community is one of the most bustling wine industries in the country. Fredericksburg and the surrounding Hill Country has become a favorite destination for wine, lovers and wine-lovers.
See: More than 30 vineyards on the Texas Wine Trail.
Stay: Rose Hill Manor Bed and Breakfast, Fredericksburg, TX.
Play: Merlot & Chocolate Tastings at Becker Vineyards.
Venice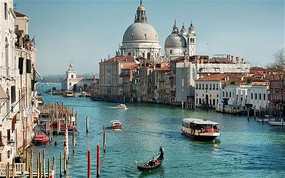 Renowned for its beautiful waterways, classical architecture and art, even the "taxis" in this old world city are icons of romance. Also known as the "City of Water," Venice is positioned amongst more than one hundred islands formed by canals and connected by more than four hundred bridges.  To this day most ever tourist amongst Europe's largest car-free area rely on typical Venetian gondolas as their main mode of transportation. 
Beyond the stunning yet standard architecture of everyday Venice lays the city's most famous church, St. Mark's Basilica, and the main public square of Piazza San Marco- two of the most visited attractions of the city.
If you want to share some romantic waterways and amazing sights closer to home, then San Antonio and its beloved River Walk has what you are looking for a mere four hour drive from Fort Worth.
San Antonio, Texas
Historical San Antonio is the most visited city in the state of Texas. Millions of tourists looking for true Texan culture visit city each year. Located one story below the bustling street level, in the center of the city lays the well-known River Walk that winds along the San Antonio River. Nothing beats a romantic stroll along the colorful landscapes, quaint pathways, quiet pools and outdoor art of one of the city's main attractions. 
For a step back in time, a trip to the Alamo is a must for every visitor.  This historic mission was established in 1718 and became the site where 189 defenders of Texas fell on March 6, 1836, to the repeated attacks of Mexican General Santa Anna's army sealing the Alamo's place in Texas history. After just one visit you'll understand the reason behind the famous saying, "Remember the Alamo."
Fun and romance is around every corner abounds in San Antonio with numerous activities. To add a special romantic twist, make sure to visit the San Antonio Museum of Art and take in the Aphrodite and the Gods of Love exhibit.  Aphrodite, the Greek goddess of love and beauty, is currently on display with 125 statues, vases and figures through the Valentine's Day weekend (February 17, 2013).
Take the "Texas Two-Step" couples massage at the Mokara Spa, dine at the Fig Tree Restaurant, and enjoy world class shopping during a trip with your loved one to San Antonio.
See: Aphrodite and the Gods of Love at the San Antonio Museum of Art (through 2-17).
Stay: The Hotel Valencia, River Walk.
Play: Dine, shop and take a passionate cruise along the famed River Walk.