Southlake Park Village to Bring New Retail
Feb 21, 2013 09:45AM ● By Mike
Southlake Park Village Expected to come to Southlake 2014
Boutique retail, eclectic dining and a distinctive experience are how developers, The Woodmont Company described its latest project at a recent public hearing this past January. At the meeting Southlake City Council members, residents and interested parties discussed details of the proposed development to be built on approximately 20 acres at the southwest corner of Southlake Boulevard and Carroll Avenue.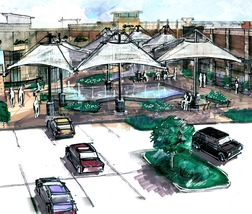 If approved and completed per current plans, Southlake Park Village would become yet another draw to the very center of Southlake's shopping and dining center. At 185,000 square feet of retail shops and restaurants, the developers plan to stay away from a classic big box anchor store.  They expect to manufacture an energetic atmosphere through landscaping, architecture and impressive central water features.
According to the developers who specialize in most every aspect of commercial real estate from development and asset management to tenant representation, the project is expected to open in the summer of 2014.