And the Oscar goes to...
Feb 22, 2013 05:35PM ● By tina
Filled with glamour, suspense and surprising moments, the Oscars turn 85 this year
Classic Oscar Moments [4 Images]
Click Any Image To Expand
By Tina Auten, Staff Writer
And the Oscar goes to….  These five words epitomize the drama and anticipation that takes place at the Academy Awards Ceremony, an event that has celebrated the achievements of Hollywood's elite in the motion picture industry for over eight decades.  Since the earliest days of the Academy Awards, the public's fascination and appetite for the ceremony has become a staple in pop culture.  As the crème de la crème of Hollywood preen on the fabled red carpet, fans tune in for the glamour, suspense, and the surprising and sometimes hilarious moments that comprise The Oscars.
So grab your popcorn and enjoy a look back at a few classic moments in Oscar history:
You like me! – In her acceptance speech for winning Best Actress in 1985 for Places In The Heart, Sally Field exuberantly exclaimed, "You like me, right now. You like me!"  And with her 2013 nomination for Best Actress in a Supporting Role for her work in Lincoln, it's obvious fans and the Academy still like her.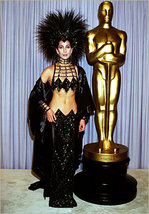 Disney Meets Vegas – Cher's 1986 gown by Bob Mackie remains one of the most identifiable and unforgettable gowns from the red carpet.  Looking like a combination Disney villainess and showgirl, the spangled black dress and feathered headpiece is widely considered the worst dress ever.
One Armed Push Up – After being in the business for more than 40 years, first time Best Supporting Actor winner, Jack Palance, dropped down and did one-armed push ups for the audience during his acceptance speech.  Oscar host and co-star of City Slickers Billy Crystal didn't miss a beat and kept the audience laughing the rest of the night.
The Streaker – During the height the streaking craze in the mid-70s, audience members gasped in surprise when a naked man dashed behind David Niven who was introducing presenter Elizabeth Taylor.  Cool and quick-witted, Niven's facetiousness had the last laugh.
So why don't you sit? – Funny, emotional, and genuinely thrilled to be honored, Best Actress winner Julia Roberts emphatically told the conductor to sit down because she wasn't finished with her speech.