Wild West of Wine
Mar 01, 2013 09:49AM ● By tina
Enjoy a stroll through Napa Valley while learning about great California wines
The Napa Valley of Yesteryear    
Sponsored by Patrizio Osteria
Written by Ken Kuczwaj, General Manager Patrizio Osteria
In 1975 there were less than 75 wineries in Napa and Sonoma. Today there are over 700.  I personally started to collect wine in 1986 when Napa Valley was still much of what Paso Robles, Willamette Valley and the state of Washington wine region is today; small and intimate, where every visit culminates in meeting the owner, enjoying older vintages and a locally grown fruit and cheese plate.
Unfortunately those days, along with some great labels, are gone. Today's Napa is like going to a wine factory. Four deep at a wine bar (not to mention a $5-$10 tasting fee – unheard of in the glory days), wine poured by uninspired employees with a canned speech and worst of all, every wine poured is available at Kroger for a fraction of the price. Napa, like Las Vegas, has gone to the corporate style of doing business. Get 'em in, get 'em out, and sell 'em what you can.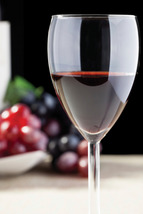 My fondest memories of Napa Valley were my trips in the late 1980s. Along the Silverado Trail was a gem of a winery owned by Jack Schulte named Napa Creek. I was relatively new in my pursuit of collecting fine wine and  stumbled across this winery in 1988. I was greeted by a scruffy farmer in overalls who asked me what I was looking for.This was Jack Schulte - owner, farmer and winemaker.Not knowing how to respond I said, "Great Cabernets."Four hours later and after a tour of the vineyard, facilities, and numerous barrel samples, Jack opened the crown jewel; the 1984 Napa Creek Reserve Cabernet Sauvignon. To this day, and I have had many great wines since, nothing will compare to that fateful glass.  Regrettably I only purchased a case to send home, which was gone within a month or two, since I was so excited to share my newfound passion.Jack made that trip incredibly special and created an experience I will never forget.
His passion for his product brought me a deep understanding of the gargantuan task of taking a grape and turning it into that 1984 Cabernet, a lesson I often remember when I open a great bottle of wine and savor the nose.
In this day of superstar wine makers, bottles priced at $400 and higher, fancy resorts, restaurants and golf courses, I miss the days when Napa was still the Wild West of Wine.I suggest a stop at the Prager Winery in Napa, it is what Napa used to be like. The tasting room resides in an old carriage house, Ports that rival anything from Portugal and Jim Prager himself, who at 97 is still going strong and sharing his passion for his craft.
In the movie The Bronx Tale, Sonny tells his protégé Colangelo, "that there will only be three great women in your life, unfortunately all of mine came when I was 17." I sometimes feel that way about wine and wineries. All of mine came on one trip in 1988. I can close my eyes and remember wineries like Villa Mt Eden that made great inexpensive wines, or walking into V Satui and seeing the greatest deli ever, which offered incredible samples of local cheese, fruits , and sandwiches. I remember the smell of the oak barrels and musty cellars that have given way to wineries designed by Frank Lloyd Wright, or look like a Persian Palace. 
I don't know, maybe I am getting older and still think Fenway Park and Wrigley field are the two best baseball parks in the world, but I know that for my money I will visit regions like Paso Robles, Santa Barbara, Willamette Valley and Washington to recreate the magic that Napa had in the old days.
A few "Old School" labels that still make great wine and are reasonably priced include Grigich Hills Estate (try the zinfandel), Louis M. Martini, Clos Du Val, and Freemark Abbey (the 1978 petite syrah was one of the greatest wines I've ever tasted).
Some of the wines I love are a little more expensive, but have a deep-rooted tradition in great California Cabernets include Diamond Creek, Dunn Vineyards, and Silverado Vineyards.
Give some of these wines a shot, and sit back with a great steak or some pasta and know that you are drinking history in a glass. If not come see me at Patrizio's and I will pull one of the many gems I have hidden off the wine list for just these special occasions.
Our Executive Chef Luciano Salvadore shares a dish that would be unreal with the Grigich Hills Zinfandel, which is a big fruit forward, not overly spicy zin. Known as a cab lover's zin, this is worth trying.