Don't Wait Before it's Too Late!
Mar 04, 2013 10:56AM ● By tina
Before the summer heat hits, get a jump on summer and have your A/C checked now-
Checking Your A/C Now Saves You Money Later
Sponsored by Berkeys Air Conditioning and Plumbing
Written by Adam Mennega, Service Manager, Berkeys
Many people don't realize there may be something wrong with their AC, until the first hot day of the year. In my experience, 95% of the time this happens when someone added refrigerant the summer before without using a licensed professional, or ignored some of the common warning signs that could indicate a problem.  
Causes of A/C Problems
Refrigerant Leaks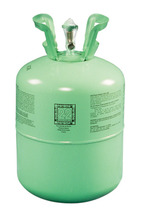 The most common choice of refrigerant for residential and commercial air conditioning and heating systems is known as R-22 or HCFC-22. Regrettably, R-22 has been classified as a greenhouse gas that contributes to ozone depletion via leaks in places like air conditioning systems. Any time you have to add refrigerant to your AC it means you will have a refrigerant leak. These leaks are caused because the indoor evaporator coils are much colder and therefore condensate causing rust and eventually leaks.  In order to find the leak, have a licensed technician use an electronic leak detector to find where it is and then present options on repairing the leak or possibly replacing your AC unit.
You should never attempt to add refrigerant yourself! The leaks caused by improper addition of refrigerant can vent into your home and replace the air you breathe. This can be detrimental to your health. Always consult a professional. 
Because R-22 is going to be phased out over the coming years as part of an agreement to end production of greenhouse gases, its price has nearly doubled in the last year. While manufacturers of AC systems are now offering equipment that uses ozone-friendly refrigerants, you may not be ready to, or just don't have the need to replace your system. To ease your mind, the EPA has a set of guidelines for homeowners:
·      Existing units using R-22 can continue to be serviced with R-22.
·      Manufacturers have redesigned air conditioning and heating equipment to work with new non-ozone-depleting refrigerants.
As the cost of R-22 continues to increase, and its availability decreases, you may want to consider replacing your system. Berkeys can help you find an environmentally friendly and cost-effective solution that won't break the bank. 
Dirty Condenser Coils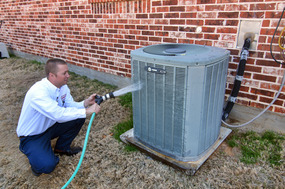 The outside unit for your AC, also called a heat exchanger in some cases, uses a series of coils to vent hot air to the outside. Over time, these coils can get clogged with dirt and debris and need to be cleaned at least once a year. As part of our standard AC maintenance we always make sure your AC condenser coils are cleaned. You can also do this yourself by spraying the condenser coils with your garden hose.
Faulty Blower Motor and Weak Capacitors
The blower motor on the outside unit is subject to the elements, so it needs to be checked to ensure proper operation. If you hear a grinding noise coming from your outside unit or "ticking", you should check to see if something may have gotten lodged inside. This often happens if there's a tree near the unit or debris from the roof falls into it.
Inside your home, the blower motor helps circulate air through your house. This also has to be maintained and lubricated regularly to ensure proper operation. Remember that neglecting any moving parts in your HVAC system can cost you over time. If the AC system can't cool properly, it will run longer and increase your energy bills.
The capacitors in your AC unit are like the starter motor in your car. Over time these will fail causing your AC to start up slowly or even make shrieking or squealing noises. If you smell an electrical burn or something that smells like a dirty sock (other than the ones your teenage kids leave lying around the house), turn off your AC and call us immediately.
Frozen or clogged condensate drain
As with furnaces, the condensate drain, functions to release the moisture built up from cold air traveling through the inside of your AC system. If this becomes clogged, and in some cases even freezes, your AC has to work much harder to keep your home cool and comfortable. A clogged AC drain can also cause an unwanted buildup of humidity in your home, which can cause your vents to rust and even damage ceilings and walls. If you notice water droplets forming on your home's AC vents, you may need to have AC condensate drain checked.
How often should you have your AC checked?
The mantra goes that it's always better sooner rather than later. Getting your AC tuned up and maintained now, before the warm temperatures arrive means you have less to worry about later and can stay cool and comfortable. The best time is usually around February or March. We all know how quickly it can get hot around here, so having a day without AC can be devastating. Don't forget that a well-maintained AC can help you save up to 30% annually on your energy bills.
About Berkeys
Berkeys is an award winning home service company, providing quality plumbing, air conditioning, and heating services to homeowners in the Dallas / Fort Worth metroplex for over 35 years.
All of our technicians, are background-checked, drug tested and have passed rigorous state examinations and are licensed by the State of Texas; they understand the complexity of state codes all the way down to local requirements.
Berkeys maintains an A+ rating with the Better Business Bureau (BBB) and has led the field in area newspapers' readers' favorite polls.
For more information visit Berkeys or call 877-BERKEYS.