Trailer Talk: Movie Previews for March 8
Mar 06, 2013 04:34PM ● By tina
Starring Tommy Lee Jones as General Douglas MacArthur and Matthew Fox as General Bonner Fellars in this weekend's Emperor
A story inspired by true events and a remake of a classic fantasy premiere this weekend at Harkins Southlake 14 Theatres.  Don't miss Emperor and Oz: The Great and Powerful- both have plenty of action, suspense and big-time names to entertain every moviegoer.
Emperor tells the story of how peace was made after the bombing of Pearl Harbor during World War II. Tommy Lee Jones lends his acting chops as General Douglas MacArthur and Matthew Fox plays General Bonner Fellars, an expert in Japanese culture.  Fellars is assigned to secretly investigate Emperor Hirohito's involvement in the fateful events that took place on December 7, 1941. Combining history, romance and suspense, Emperor gives viewers a glimpse "behind the scenes" into one of the most historic events in America's history. History buffs and drama-genre fans alike will enjoy this tale of love and honor in war.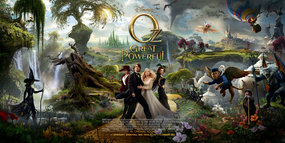 Oz: The Great and Powerful spins a different version on the beloved classic, The Wizard of Oz. James Franco stars as Oscar Diggs, a circus magician with some shady habits who is whisked away in a hot air balloon by a tornado to the magical Land of Oz.  He thinks he's got it made with fame and fortune until three witches, Theodora, Evanora and Glinda, give him the job of solving the problems facing the great Land of Oz. Oscar must use his magician's tricks to become the "wizard" that the people of Oz believe him to be in order to save the land and its community, not only turning him into a better man, but also the Great Wizard of Oz. Produced by the same man, Joe Roth, who brought us Avatar and Alice in Wonderland, this film is a visual treat for the whole family.
While Oz: The Great and Powerful is safe for the whole family, Emperor is rated PG-13, so drop off the kids at Harkins Theatres' PlayCenter for less than the cost of a movie ticket! For more information on movie times and tickets, please visit Harkins Theatres.