Good Reads
Mar 13, 2013 02:53PM ● By tina
Private Berlin
James Patterson, Mark Sullivan
(Little, Brown & Company, $27.99)
No 1 on The New York Times hardcover fiction best sellers list (2.10.13)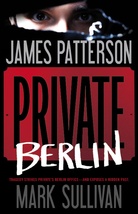 Chris Schneider is a superstar agent at Private Berlin, the German headquarters of the world's most-powerful investigation firm. He keeps his methods secret while he tackles Private's highest-profile cases. When Chris suddenly disappears, he becomes Private Berlin's most-dangerous investigation yet.
Mattie Engel is another top agent at Private Berlin. Gorgeous and ruthlessly determined, she's also Chris's ex. Mattie throws herself headfirst into finding Chris, which leads her to the three people Chris was investigating when he vanished: a billionaire suspected of cheating on his wife, a soccer star accused of throwing games and a nightclub owner with ties to the Russian mob. Any one of them would surely want Chris gone — and one of them is evil enough to want him dead.
Mattie's chase takes her into Berlin's most guarded, hidden and treacherous places, revealing secrets from Chris' past she'd never dreamed existed when they were lovers. On the brink of a terrifying discovery, Mattie holds on to her belief in Chris — in the face of a horror that could force all of Europe to the edge of destruction and chaos.
The Last Girlfriend on Earth
Simon Rich
(Little, Brown & Company, $19.99)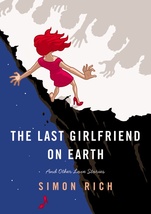 Author Simon Rich — a graduate of Harvard University — has written for The New Yorker and was the youngest staff writer at Saturday Night Live. With a reputation for writing relatable stories full of razor-sharp humor, Rich has also written scripts for Lorne Michaels and Judd Apatow.
His latest book, a collection of 30 short stories, includes "Center of the Universe," in which God struggles to balance the demands of his career with the needs of his long-term girlfriend. In "Magical Mr. Goat," a young girl's imaginary friend yearns to become "more than friends." In "Unprotected," an unused prophylactic recalls his years spent trapped inside a teen boy's wallet.
Rich explores love's many complications — losing it, finding it, breaking it and making it — and turns the ordinary into the absurd.
Killing Lincoln
Bill O'Reilly and Martin Dugard
(Holt, $28.)
No. 5 on The New York Times hardcover non-fiction best sellers list (2.10.13)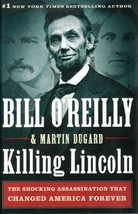 The anchor of The O'Reilly Factor recounts one of the most dramatic stories in American history — how one gunshot changed the country forever. In the spring of 1865, the bloody saga of America's Civil War finally comes to an end after a series of increasingly harrowing battles. President Abraham Lincoln's generous terms for Robert E. Lee's surrender fulfill Lincoln's dream of healing a divided nation, with former Confederates allowed to reintegrate into American society. But one man and his band of murderous accomplices, perhaps reaching into the highest ranks of the U.S. government, are not appeased.
In the midst of the patriotic celebrations in Washington D.C., John Wilkes Booth murders Abraham Lincoln at Ford's Theatre. A furious manhunt ensues and Booth immediately becomes the country's most-wanted fugitive. Killing Lincoln is history that reads like a thriller.