Local Flavor
Mar 13, 2013 03:12PM ● By tina
Healthy options like the blackened Salmon with steamed broccoli are just a few of the offerings at Southlake's Burger Shack
The Flip Side of Burgers
The Burger Shack delivers bountiful custom burgers with plenty of healthy alternatives.
Its history only dating back to the early 1900s, the now-omnipresent hamburger was not always a mainstay of American fare. Not until the post-war, mass-patty production of White Castle, and later McDonald's, did the hamburger take its current place in the canon of American culinary culture. For decades after, frozen, factory-produced patties atop tasteless buns ruled menu boards. But fast-food forward! Today's local burger scene is ripe with fresh and flavorful options for those with a few extra minutes on their hands and the desire for superiority in their stomachs.
Settled near the Southlake Boulevard entrance to Bicentennial Park, Burger Shack is filled with rustic farm-worn furnishings, giving a nod to a simpler, friendlier time when families gathered together for good food and community. Walk in on any given weekend and you are likely to see little leaguers celebrating with a post-game tray of quarter-pound Half-Shacks at the dining room's communal table while team parents enjoy their orders close by.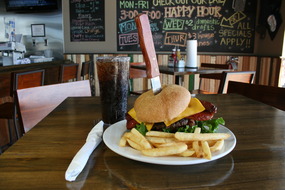 Starting with 100-percent Angus Beef and fresh-baked Kaiser rolls, Burger Shack occupies the flip-side of the burger world with its custom Shack Fav creations. Perhaps the wildest of all, the Bayou Burger ($9.99), is topped with a grilled Louisiana Andouille sausage link, a fried onion ring, American cheese and chipotle mayonnaise — a delectably dry (not greasy) and meaty mouthful. Burger Shack forges on with other specialty burgers, like the Spicy Baja ($9.49), covered with pepper jack cheese, jalapenos and chiptotle spread, and the sweet and flavorful Wild West Burger ($9.79), with BBQ sauce, bacon, cheddar and grilled. With seasoned fries, sweet potato fries or onion rings on the side, Burger Shack serves up a slice of America — on a bun.
Being a good family restaurant, Burger Shack caters to all tastes, including those of more health-conscious kin. Every offering on the menu can be prepared with ground turkey, a chicken breast or a veggie burger. A ground-turkey California Beach Burger is perfectly matched with sliced avocado and sprouts and a fresh whole-wheat bun ($9.99). Seasoned fish also makes the grade with the seared Ahi Tuna Burger finished with a sweet Thai Chili spread and a side salad ($11.99).
With a wide array of classic, creative and — dare we say — healthy burgers, Burger Shack fits the bill for every family. With Chef Jason's regular specials and a well-stocked happy hour it could easily become your weekly family gathering place.