What More Can We Do?
Mar 14, 2013 09:07AM ● By tina
City View by John Terrell, Mayor of Southlake
What more can we do? It can be asked in a moment of exasperation, or as I prefer to look at it, a moment of opportunity. I'd like to explain why I think there's an opportunity we need to embrace.
We mourned with the rest of the nation when the tragedy of Newtown, Conn., unfolded. After the initial shock and horror, many began to ask how something like this could happen and what could be done to stop it from happening again. I believe there are no easy answers to those questions. Reasonable responses take time, and they demand that we go beyond the obvious and look for solutions that will not only enhance our sense of safety and security, but also make that sense a reality, a cornerstone of how we live.
After days and weeks passed, the events in Newtown were still fresh in our minds when two Carroll High School students died of presumed drug overdoses. Again, we asked why? What did we miss? How could we have prevented it? Again, there were no easy answers, but the challenge remained: What more could we do?
I have learned that there is a lot more we can do to help parents and kids feel even safer at school, to support parents as they raise their children and to ensure everyone's safety and security.  I am so encouraged to see what will happen when we come together and work through the tough issues that challenge our families, such as school safety, drugs and alcohol use, bullying, depression and mental health.
In the coming months and years, I think you will see subtle and not-so-subtle changes to the ways this community approaches safety. I believe nothing is more important than keeping this conversation going. I hope you will get involved, maybe starting conversations around the dinner table, participating in school and city dialogues or joining a prayer group at church. I know for many of you, these conversations have already started. For that I am grateful, because those exchanges will form the legacy we leave children who will eventually become the new leaders of Southlake. It's our responsibility to provide a firm foundation.
Why is this so personal for me? The answer is simple and yet harsh: horrific things can happen to any family at any time. And while prevention isn't always possible, making people aware of what's out there and how it could affect our community is critical to our well-being. As I look at my kids, my wife and my extended family, I want them to know that they are supported by a community that cares and is willing to challenge the status quo to make things even better than they were before. I want them to feel confident that Southlake doesn't just feel safe; it is safe. 
We will continue to ask the question, "What more can we do?" My answer is wherever our innovation and ingenuity can take us. This community is so blessed to have so many people who care about one another and have a willingness to share their expertise to make our community safer and more secure. As always, I look forward to hearing your ideas and seeing how we can make them work.
See you in Southlake.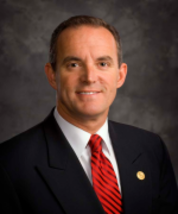 John Terrell, vice president of commercial development for DFW Airport, has spent countless volunteer hours in service to the City of Southlake.  He served two terms on the city council prior to becoming elected Southlake's Mayor in 2009 and again in 2012.  Married to wife Joanne and father to two Dragons, the 2012 Southlake Citizen of the Year has called Southlake home for more than 15 years.