Trailer Talk: Movie Previews for March 15
Mar 15, 2013 11:34AM ● By tina
Halle Berry stars as a 911 dispatcher who goes above and beyond the call of duty to save a kidnapped girl in The Call.
Halle Berry, Steve Carell and Jim Carrey are just a few of the big stars that will return to the big screen this weekend at Harkins Southlake 14. This week's Trailer Talk will give you a glimpse into the upcoming films, The Call and The Incredible Burt Wonderstone.
In The Call, Halle Berry stars as a veteran 911 operator who early in her career makes a mistake on the job that costs a young girl her life. Years later, Berry is faced with another kidnapped teenager and quickly realizes it is the same man who murdered the girl from her past. Determined not to let history repeat itself, Berry makes it her mission to go beyond her "call of duty" to save the girl and bring the serial killer to justice. Packed with suspense, Berry keeps you on the edge of your seat in this thriller. Be sure to check it out this weekend!
This film is not suitable for young children so drop the kiddos off at the Harkins exclusive in-lobby PlayCenter so they can catch a movie made just for them! Bring the whole family back next week for the premiere of The Croods, Dreamworks' latest animated movie about the world's first family and their journey to find a new home.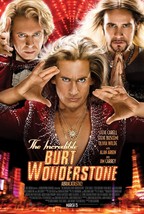 Also opening on Friday is The Incredible Burt Wonderstone, a movie about competing magicians in Las Vegas. Jim Carrey, Steve Carell, Olivia Wilde and more all shine in this hilarious spoof on some of Sin City's most famous entertainers. Burt Wonderstone, played by Carell, is a show magician who partnered with his childhood friend, Anton Marvelton, to become one of the hottest acts to hit the strip. Fast-forward a few decades later and their stale act is struggling to rein in customers after a street performer, Steve Gray, begins stealing their entire spotlight.
Can Burt and Anton put aside their differences and remember what inspired their careers as magicians in the first place or are their jobs doomed to take a back seat to the up-and-coming Steve Grey? Find out this weekend at Harkins Southlake 14!
Catch these movies and more at Harkins Theatres and don't forget to bring your Loyalty items to receive a free medium popcorn and $1.50 drink refills! For more information, please visit Harkins Theatres.