Flight-Worthy Festivals
Mar 21, 2013 09:53AM ● By tina
The annual Cherry Blossom Festival in our nation's capital is not to be missed! Photo credit: Simon Williams
Is your bucket list of travel destinations looking a little thin? If you're like us, you've checked plenty of must-sees and must-dos the world over, but take another look at these cities and their attractive events. Perhaps it's time to rediscover the great food, arts and culture awaiting us in our own backyard.
National Cherry Blossom Festival
Washington, D.C.
March 20­–April 14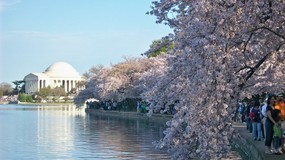 There's no telling why founding father George Washington chopped down a cherry tree as a child. Fitting then that his namesake capital city is awash in cherry blossoms every spring. Forget drab old monument tours and celebrate the arrival of spring from March 20 to April 14 — your inner child will thank you!
Over a hundred years ago, the people of Japan sent 3,020 cherry trees to the United States as a gift of friendship, which were planted around the Tidal Basin and East Potomac Park. By 1934, a three-day festival celebrated the tree's spring blooms. In 1948, the first Cherry Blossom Queen was "nominated. Actually, she was chosen by chance, through the spin of a "wheel of fortune," which is still used today. It expanded to the two-week festival we have today in the early 1990s.
Any visit to Washington, D.C., during this verdant time can be filled with activity. Take in the glory of the Jefferson Memorial at sunset from one of many Cherry Blossom Festival cruises. Plenty of cherry-blossom related classes are offered, many of them free. You could return home with new photography skills and mementos of the blossoms' beauty or new insight into traditional Japanese garden design and cultivation. Other inspired invents include paddle-boat tours, bicycle tours and art walks. Kids especially will enjoy time spent in Washington during the festival, which includes plenty of child-geared entertainment options that don't involve docents and national museums. The blossoms peak on average around April 4, but we recommend going during opening weekend. Not only are the opening ceremonies and parade held then, but so are a variety of kid-friendly events (like kite-building!). Bike-aficionados will certainly not want to miss the Bike Ride and Cycling Expo on March 25, featuring workshops and four celebrity-led bike rides along the historic Capital Crescent Trail. If the weather doesn't suit you, you can head indoors to enjoy the spirit of spring at Macy's Cherry Blossom festival at Macy's Metro Center, where 30 cherry trees will bloom inside the story from March 27 to April 10. 
See: Breathtaking and beautiful blossoms at sunset from an evening dinner cruise
Stay: Mandarin Oriental, Washington, D.C.
Play: Explore another culture during the Japanese Street Festival on April 14
New Orleans Jazz and Heritage Festival
New Orleans, Louisiana
April 26­–May 5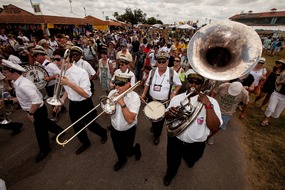 Music lovers of all stripes will find something to love at this year's New Orleans Jazz & Heritage Festival presented by Shell, so start planning early for the event, which kicks off on April 26.
The first event, held in 1970, attempted to bring attention to New Orleans as the birthplace of jazz and the rightful claimant to the tradition's heritage. At the first Jazz Fest, legendary gospel singer Mahalia Jackson, who had returned home to New Orleans for an appearance at the event, led an impromptu revelatory celebration with Duke Ellington and other musicians. With only 350 attendants in its first year, Jazz Fest, as it quickly became known, outgrew its initial Congo Square location and moved into the Fair Grounds Race Course in 1972, where it's still held today. By 1975, the five-day event attracted 80,000 participants. Jazz Fest matured quickly into an important and vital cultural institution.
Today, Jazz Fest takes place over two weekends, April 26 to 28 and May 2 to 5. With 12 stages of musicians performing jazz, gospel, Cajun, zydeco, blues, R&B, rock, funk, African, Latin, Caribbean, folk and more, the event caters to all kinds of different musical tastes. This years headliners include Willie Nelson, B.B. King, Latin-fusion act Gipsy Kings, songwriter John Mayer, punk and folk legend Patti Smith, piano man Billy Joel, rock and roll icons Fleetwood Mac and many, more. Don't just go for the headliners, Jazz Fest features the sound of many up-and-comers, some of whom could certainly be the Next Big Thing. Food, art and culture lovers will find plenty to love inside the Fair Grounds. In between acts, explore the craft and food booths to enjoy an in-depth education on all the facets of Louisiana culture and don't be afraid to wander into the folklife, Native American or grandstand tents.
You can still explore jazz outside of the Fair grounds throughout the city, where many performance venues schedule acts in line with the spirit of the official event. Certainly don't miss the fare of innovative chefs offering up new takes on traditional creole cuisine inside and outside the festival.
See: End a night spent catching the acts at club Blue Nile with the legendary beignets of Café Du Monde
Stay: Hotel Monteleone, French Quarter, New Orleans
Play: Support the Don Jamison Heritage School of Music at the 15th Annual Jazz and Heritage Gala, April 25. Purchase tickets at jazzandheritage.org
Savor Dallas
Dallas, Texas
Natives like us can sometimes take the vibrant and innovative culinary scene in North Texas for granted. But that doesn't change the fact that every day, chefs the Metroplex over are creating delectable dishes in new and exciting ways. Savor Dallas showcases the fare of these great chefs and restaurants that create the signature food and wine North Texas deserves.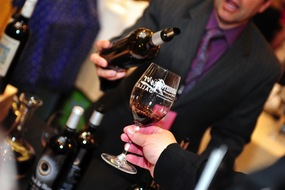 This food- and wine-lover's extravaganza features over 65 of the nation's best chefs, all based in North Texas, and over 400 premium wines. It includes events held in Dallas, Las Colinas and the newly hot Bishop Arts. The focal point of Savor Dallas would have to be the International Grand Tasting, showcasing a sampling of the signature fare of over 65 chefs and hundreds of fine wines. The tasting is held at the Irving Convention Center at Las Colinas on Saturday, March 16 from 7 to 10 p.m. The oenophile will not want to miss the Reserve Tasting, held prior to the grand tasting, from 5 to 6:30 p.m., featuring ultra-premium wines and the presentation of the prestigious Lone Star Awards.
However the most exciting night of this year's event will be held at the newest addition to Dallas' cultural landscape: the Wine Stroll at the Perot Museum of Natural Science, benefitting the museum's foundation, on March 15 from 7 to 9 p.m. "We are thrilled and honored to showcase the new Perot Museum," says Savor Dallas founder Jim White. "Imagine tasting premium wines, spirits and beers, while touring all five amazing, interactive levels of Dallas' fantastic new cultural and educational treasure!
Other don't-miss events include the wine-tasting seminar, featuring winemakers of Savor Dallas, and the highly anticipated pairing of wine and cheese event at the Rosewood Mansion on Turtle Creek. You can only pick one though, both are held on March 16 from 2 to 3 p.m. Want to get your foodie fix early? Explore an up-and-coming neighborhood through its best restaurants' cuisines at Savor Trinity Groves, March 14 from 6:30 to 8:30 p.m.
See: An Upscale St. Patrick's Day Wine Stroll at the Dallas Arboretum, March 17, 6 p.m., benefitting the Arboretum's education department.
Stay: Adolphus Hotel, Downtown Dallas
Play: Give back at the Savor Dallas Silent Auction benefitting the North Texas Food Bank, held at the International Grand Tasting, March 17, 7 to 10 p.m.