Trailer Talk: Movie Previews for March 22
Mar 21, 2013 03:45PM ● By tina
Perfect for the entire family, The Croods tells the tale of the very first family in the world
This weekend at Harkins Southlake 14 Theatres, we have two great movies with lots of laughs to get you through the weekend, Admission and The Croods. Don't forget to grab your Loyalty shirt and cup to get snacks and the best bang for your buck as you hit the theatres for these great movies.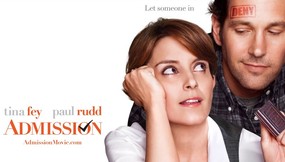 Admission stars Tina Fey as Portia Nathan, a Princeton University admissions officer who's a stickler for the rules. Her life gets thrown for a loop after a recruiting trip to an alternative high school that is overseen by her free-spirited former college classmate, John Pressman, played by Paul Rudd. John believes one of his most gifted-albeit odd- students, Jeremiah, is Portia's son she gave up for adoption long ago. Rocked by this revelation, Portia finds herself bending the rules for this young man and possibly changing the course of her life forever. Head to Harkins Southlake 14 Theatres this weekend to see what happens with Portia, John and Jeremiah in this heart-warming comedy!
This next movie is perfect for the whole family- The Croods is the latest animated flick to hit the big screen and tells the tale of the very first family in the world.  After their family's home is destroyed, the Croods must go on the adventure of their lifetime to find their new place to live and call home.
While The Croods is great for the entire family, Admission and its PG-13 rating make it perfect for taking advantage of the in-lobby, exclusive Harkins Theatres PlayCenter. Background-checked, fingerprinted childcare professionals look after your kids while you enjoy a night out at the movies.
For more information, please visit Harkins Theatres.