Trailer Talk: Movie Previews for March 29
Mar 29, 2013 09:50AM ● By tina
A future Earth is inhabited by aliens who encounter human resistance in The Host
If action and romance are what you're looking for, Harkins Southlake 14 Theatres has two movies premiering this weekend that you need to check out – The Host and GI Joe: Retaliation.
The Host is based on the book written by Twilight saga author, Stephanie Meyer. The movie tells the story of a future Earth that has been taken over by an alien race, called Souls, which inhabit humans' bodies and erase their memories. One human, Melanie Stryder, refuses to fade away after she is captured and inhabited by a Soul named Wanderer. Wanderer sees Melanie's memories and eventually begins to feel a connection to her loved ones. 
Wanderer, with Melanie speaking to her mentally, sets off to find Melanie's family and boyfriend. What she finds once she locates Melanie's family and the last of the human race they're with, Wanderer finds more than she was looking for. Filled with action and romance, this movie makes for a perfect date night flick and a great opportunity for families' to take advantage of the exclusive Harkins Theatres in-lobby PlayCenter for ages 3-8.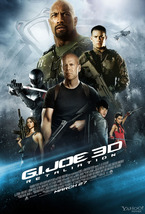 Also premiering this weekend is the latest installment in the GI Joe series of films, GI Joe: Retaliation. The GI Joes must battle the government after a corrupt leader frames them for a crime they did not commit. Bruce Willis, Channing Tatum and Dwayne "The Rock" Johnson star in this action-packed thriller.
For more information on ticket prices and show times, please visit Harkins Theatres.