Weather Proof
Apr 02, 2013 12:46PM ● By tina
Southlake's Dan Henry and the team of FOX4 are dedicated to getting people through tornado season - Photo courtesy of BluDoor Studios
"Tell me the weather," Mark the WECT TV camera operator asked the anxious man in front of him. For weeks behind the scenes, Mark had been observing newest weekend meteorologist in Wilmington, N.C. — and from his vantage point, just minutes away from going live in front of thousands, he could see the young man before him was still as green as the screen he stood in front of.
It was 1990, and Dan Henry had just graduated from Penn State University — one of the country's premier meteorology programs. Like most college graduates, Dan was willing to start at the bottom. WECT was a small station somewhere in the mid 140s (out of more than 200 television markets in the country). He spent the weekdays observing his more experienced counterpart from behind the scenes. By the weekends, he was on his own in front of nearly 10,000 viewers, and he was always, "a nervous wreck."
Well-versed in the science of forecasting weather and armed with practical experience from time spent working for the National Weather Service in Washington, D.C., Dan had yet to find his camera presence. Yet upon Mark's request he immediately, and quite comfortably, launched into a successful monologue on the day's weather. "Great. Now do that again in 15 minutes," Mark bluntly responded.
Point made — and to this day, it's a point that five-time Emmy Award–Winning FOX 4 weatherman and Southlake resident Dan Henry has never forgotten.
It may be hard to believe, but the polished professional we watch each weeknight was not always a natural behind the camera. What was natural however was his love for the weather.
"There wasn't a whole lot of weather growing up in the San Francisco Bay area," Dan reminisces. "But I still remember the first time I saw snow." It was only two or three inches, just enough to make the ground white, but for a 9-year-old Californian it was as exciting as Christmas day.
There wasn't much more snow in Dan's youth until the family moved to Delaware. That first snow in California may have been memorable, but it was the famed President's Day Blizzard of 1979, which occurred just two weeks after he and his family moved to the mid-Atlantic that made a lasting impression on the young boy. "The forecasters were only predicting one to three inches of snow," Dan recalls. "But the next morning, my grandfather woke me up and told me to look out the window. To my surprise, the snow was still coming down — close to two feet before it was all done."
The entire week of school was canceled. The disruptive impact of the storm made a mess of daily life and made a major impact on Dan's chosen field of study.
Baffled the forecasters' predictions were so far from reality, Dan began to pay closer attention to the television forecasts. Where the family lived in southern Delaware, they also received Baltimore and Washington television stations. As a boy, Dan made a routine of watching as many weather forecasts as possible. "I had it down to science, I knew at 6:12 that this person came on and at 6:14 that person came on and 6:16 another came on," so he could catch three different forecasts before dinner. Of course, he admits to having always preferred the forecast predicting the most snow.
It just grew from there, in addition to being glued to the television forecasts of ABC's Fred Weiss, D.C's Marty Bass and Baltimore's Bob Turk, he started watching the sky for storms and picking up books on the weather. An old saying amongst meteorologists is that they are predisposed to doing the weather — as if they have an extra gene. "Probably 90 percent of the meteorologists I know, they knew when they were in middle school or earlier they wanted to do the weather," Dan explains.
School Ties
Budding meteorologists regularly flock to the campus of Penn State University, continually ranked at or near the top programs in the country. In fact, roughly one out of every four meteorologists has some ties to Penn State, whether in undergrad or grad school. Close to home, it was a simple choice for Dan, and it didn't hurt that Penn State had a winning tradition in football. Dan became a rabid collegiate football fan. "My sophomore year they beat the Miami Hurricanes and Jimmy Johnson for a national championship," he says. "I didn't see them lose a regular season game until my junior year."
Southlake's Dan Henry Knows Weather
While in school, Dan knew he wanted to give television a try, but given his fear of public speaking, he thought he might not be cut out for it. To make up for what he perceived as a shortcoming, Dan immersed himself in the science of weather, taking intensive weather classes and honing his craft until he placed in the WxChallenge, a National Collegiate Forecasting competition.
Confident in his forecasting abilities, Dan turned his attention his on-camera abilities. "I was petrified to get up and talk in front of groups. That was something that really concerned me as I got older. I knew I wanted to give television a try," he admits. "There are a lot of natural broadcasters, but unfortunately, I wasn't one of them."
He took TV Meteorology his senior year, finally getting in front of the camera, and made the resume tape he used to land that first on-air spot in Wilmington.
Today, after more than 20 years in the business, he displays a well-worn comfort in front of the camera. Today he admits to a very conversational style, "I act as if I'm actually sitting in a living room with friends."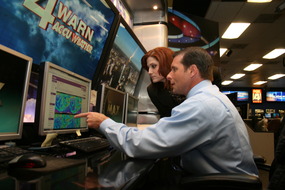 Anything but Typical
Texas winters might be much milder than those he experienced growing up, but Dan can still count on the North Texas spring to be anything but typical for Dan and the team at FOX4. "This time of year, the weather dictates much of what we do," he explains. "We never leave the weather room unattended." So, he starts his day with reaching out to daytime counterpart, Evan Andrews, to ensure everything is going smoothly. The two arrange a handoff of information just shortly before 3 p.m. From there, Dan dives in to his regular eight-hour shift.
Rolling up his sleeves, he wastes little time preparing for his televised forecasts, the first of which airs at 5 p.m. Including cut-ins, shorter segments and full-length forecasts, before his day ends around 11 p.m., he'll be on-air for no fewer than 10 segments — even more should the weather turn for the worse.
During the all-important first hour, he starts gathering information by reviewing several weather websites, checking the Dual Polarization Radar (a major improvement over the Doppler Radar system) and plugging data into his computer models. Texas weather can turn at any moment, and during this eventful season, most of Dan's efforts focus more on the short-term weather. In keeping with this, he makes sure to go old school, taking the time to step outside and look at the sky. Dan says, "The forecasts for days three, four and five are important, but this time of year, its all about getting folks through the next 24 hour period, especially when there is a threat of tornado."
With the forecast complete, the second hour generally consists of making the most of his on-air time. He prepares graphics to creatively fit the day and week's forecast, adding a dose of personality through weather related facts, pop-culture references and information derived from social media contact with FOX4 weather watchers. "Most of our weather watchers are average viewers who have an appreciation for the weather," explains Dan.
Just a year ago, a tornado outbreak left thousands across DFW scrambling for safety. The entire area huddled together for updates from Dan Henry and his colleagues. On April 3, 2012, 22 confirmed tornadoes of varying severity touched down throughout North Texas, Oklahoma and Louisiana. Dan recalls, "We were on the air virtually non-stop from noon until six p.m. Six hours of wall-to-wall coverage. Fortunately, there were no fatalities, but Lancaster and Forney were hit very hard."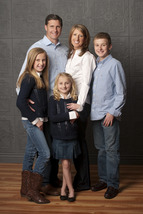 Family Time
As exciting as Texas weather is for this storm chaser, its long days like these that are the hardest for the Henry family. Consistent evening hours and spring storm coverage don't always make for stereotypical family dinners for Dan, wife Kerry and their children Logan, Brooke and Carys. "We definitely make the most of our weekends," he explains. "We like to go for family walks and bike rides in nearby Bicentennial Park." An extremely athletic and active family, they enjoy ski-trips to Colorado and escapes to visit family on the East Coast during hot summer months.
Though they enjoy their share of their land-based activities, the Henrys naturally gravitate to the pool. All three children are accomplished swimmers with the North Texas Nadadores, and that means plenty of time together at the Southlake Natatorium. "It all started with Brooke about five years ago," says Dan. "She took an interest in it, and then Logan got tired of watching from the bleachers. Kerry said, 'You have a choice: You can either be bored or you can swim yourself.'" He chose the latter, and then Carys joined too. Now the Henrys can be found at the pool 6 days a week. The athletic parents never did swim competitively, so it's all new to them. "I used to coach Logan in baseball, but now we're there purely as spectators and for support," he explains. "Actually its fun to cheer them on, and Kerry is a very involved parent with the Nadadores"
Family involvement doesn't stop with the Nadadores, the Henry family also enjoys giving back to several community organizations. The entire family helps with the GRACE feed-the-children program each summer, and Dan himself was the emcee for last year's GRACE Gala. All are active members at White's Chapel church, where the children serve as acolytes during Sunday services. Perhaps dearest to the Henry girls is their work as ambassadors to the Cook Children's Bunny and Bears program. In this role, they helped collect and distribute more than 1,000 stuffed animals to lift the spirits of the hospital's many young patients.
Settled In
Comfort comes with experience, but Dan's ease in front of the camera is also a function of the many hours of research and modeling he puts into each and every one of his forecasts. He considers himself a conservative forecaster who looks at as much information as possible before making his predictions. "I'm usually conservative over the long range," he admits. "I take my time, use my experience and gut instinct and then keep a middle of the road approach."
Celebrating 10 years with FOX4 this year, Dan has refined his form and settled comfortably into the role of chief meteorologist for the top rated news team of North Texas. For the next generation of weathermen and women, he suggests many of the activities he enjoyed as a boy: keeping a weather journal, reading plenty of books and installing a rain gauge in the back yard. His persistence paid off in a career leading a weather team in the country's fifth largest TV market. It is a dream come true for this Southlake dad, who fell in love with the weather when he was just a boy. 
Photo Credits: BluDoor Studios and Skipping Stone Studio