Being an artist isn't easy....But it is the only way
Apr 02, 2013 03:47PM ● By tina
Mike Tesoriero steals a moment with Seth Godin to speak on the art of Southlake Style
April's Letter from the Editor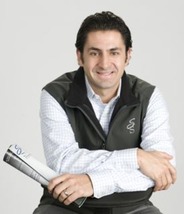 A few weeks ago, a hero of mine, Seth Godin, came to Dallas for a charitable event put on by the Dallas Social Venture Partners. That morning, I was part of a small group assembled at the Wyly Theatre to listen to the best-selling author, marketing guru and entrepreneur speak about the philosophy behind his latest book, The Icarus Deception.
We all listened intently as the two-time TED conference speaker mused on treating your work as art:
"It's not art if the world (or at least a tiny portion of it) isn't transformed in some way," he said. "And it's not art if it's not generous. And most of all, it's not art if there's no risk. The risk isn't the risk of financial ruin (though that might be part of it). No, the risk is the risk of rejection. Art requires the artist to care, and to care enough to do something when he knows it might not work."
What Godin's ideas mean to me — to do work that truly matters (to you and to those around you), one has to take a chance and display their work to be judged by others.  Sure, it is frightening to think your work/art may be rejected by some, but when it is embraced by others — there is no better feeling.
To know FOX4 weatherman Dan Henry is to know of a man who has turned his life's work into art. It wasn't always easy for this month's cover man to tackle the fear and nerves that come with presenting his work to thousands of nightly television viewers. Eventually his passion overcame all, and after 20 years and five career Emmys, this polished pro and Southlake dad sees nothing but blue skies ahead.
As we venture into the robust weather that is April in Texas, we also look forward to the Southlake Women's Club and their annual Art in the Square festival. Like a flash flood, each year hundreds of artists, like 2013 Artist of the Year Greg Barnes, descend upon our city to literally bring us the colors of spring.
There is plenty more art inside this month's issue. Thank you for letting Southlake Style bring it to your home each and every month. We joyfully take on the risk to share the best of what's around.
Yours in Southlake Style....
Mike Tesoriero