The Gardens
Apr 03, 2013 09:55AM ● By tina
Six beautiful Southlake gardens showcasing a variety of gardening styles will be open for the 2013 Southlake Garden Tour
Be sure to mark April 28 on your calendars for this year's Southlake Garden Tour, presented by the Perennial Garden Society of Southlake.  The Southlake Garden Tour selected six beautiful gardens showcasing a variety of landscapes and gardening styles. During the tour, you will discover outstanding examples of unique and inspirational garden designs at each of the stops.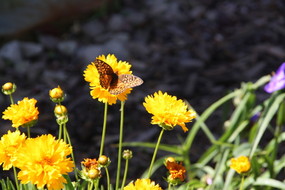 Bredenberg Garden
Hill Country aesthetics in combination with sustainable practices-
Stone-lined planting beds filled with drought-tolerant native and adaptive perennials welcome visitors entering the front of this sunny, certified-natural habitat garden in rural Southlake. Visitors to the garden are greeted by dramatic hilltop views, a large beautiful pond and the homeowner's horses and donkeys. Water conservation and other responsible gardening techniques are tastefully achieved through the use of rain barrels, pond-supplied irrigation water, composting and mulch.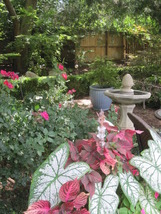 Chambers Garden
Shaded understory haven for perennials and pathways-
A lush green lawn, the envy of the neighborhood, catches the eye upon approaching a colorful front garden that continues to the spacious open back garden. Mature oaks, hollies and junipers provide a canopy of welcomed shade, creating an ideal environment for garden paths lined with hostas, azaleas and shade-loving perennials. A beautiful rose-covered arbor along with eye-catching garden art and prominent color-filled containers complement the pathways and surrounding garden beds.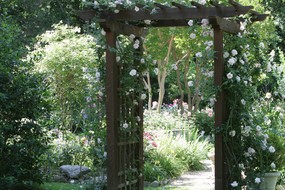 Foster Garden
English gardens with a Texas accent-
Charming and lovely are the first thoughts that come to mind when driving up to this home on a quiet Southlake cul-de-sac. But the charming front garden only offers a small glimpse of what's to come in back. A formal English-style garden and pond blend tastefully with a casual Texas-style fireplace and seating area. Each area takes advantage of natural undisturbed settings to create a true garden masterpiece.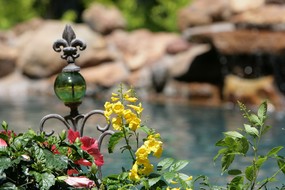 King Garden
Entertaining paradise surrounded by tropical color-
The formality of the front gardens of this striking Mediterranean-style home transitions to a back garden designed for hours of family fun and entertaining. Palm trees look right at home alongside magnolias and roses. A mosquito-control misting system has been incorporated into the shaded garden paths. Excessive rain runoff is artfully managed through the use of stone-lined dry creek beds, turning a problem into a beautiful asset in this garden oasis.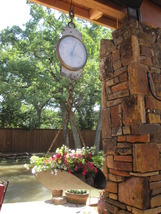 Northcutt Garden
Finding beauty in objects that are often overlooked-
For many years, this homeowner collected boulders from job sites thoughout the area. After water runoff flooded his swimming pool numerous times, he converted it into an enormous pond and waterfall, making a new home to the rocks and boulders. The result is a stunning backyard entertainment area capped off by the crowning jewel, an outdoor kitchen which skillfully blends indoor and outdoor for year_round enjoyment.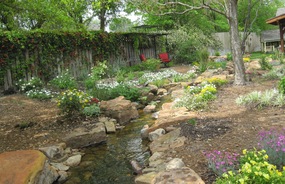 Stone Garden
A multigenerational garden for the entire family-
These homeowners envisioned a space to entertain their grandchildren, a vision that evolved into a wonderful outdoor space the entire family enjoys. Designed in 2010, many tons of stone were brought in to create a stream that meanders through a garden featuring over 120 species of perennials. The grandchildren enjoy a sand beach, fairy garden, bountiful square-foot vegetable garden and playhouse while the adults spend time in an exceptional outdoor kitchen and living area. Truly a garden designed to entertain the entire family.
Demonstrations and Displays
County Master Gardener's will be in each garden to answer questions. Experts on topics such as mosquito prevention and control, water conservation, pond management, tree selection and tree care will also be on hand. Radio personality Marilyn Simmons will be available to address visitors' questions on gardening. Tickets go on sale April 10 and can be purchased in advanced for $8 at Calloways in Southlake, Marshal Grain in Grapevine and the Farmers Market in North Richland Hills. Tickets can be purchased for $10 the day of at any of the garden locations.  For more information visit Southlake Garden Tour.