Trailer Talk: Movie Previews for April 5
Apr 05, 2013 03:28PM ● By tina
Fully restored and in 3D, fans will love the 1993 classic, Jurassic Park
Harkins Southlake 14 brings back a classic and premieres a thrilling crime drama this weekend with Jurassic Park 3D and The Place Beyond the Pines.
Jurassic Park is given a whole new life in this new 3D version. The Jurassic Park theme park uses technological advances to clone several species of dinosaurs and keep them in a zoo for prehistoric giants. John Hammond, the creator of Jurassic Park, has invited some special guests, including his two grandchildren, to preview the new dinosaur-watching sensation. 
Unfortunately, on the special preview tour, a wild storm and selfish employee end up causing the power to go out in Jurassic Park, allowing the dinosaurs to roam the park freely. Will the visitors of Jurassic Park be able to escape their gigantic predators or will they fall prey to these prehistoric monsters? Head to Harkins Theatres this weekend to find out!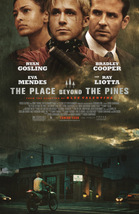 Ryan Gosling, Bradley Cooper and Eva Mendes star in this crime thriller drama that tells the three-part story of two generations and how far fathers will go to help their sons and the consequences of those actions. Gosling portrays a motorcycle driver who travels with a circus riding in high-risk, dangerous performances.
After returning to one of his old circus stops, he learns he has a son and quits his job at the circus to try to be a part of his child's life. Shortly after, he is pressured into robbing banks to support his new family and crosses paths with a rookie police officer and new father, played by Bradley Cooper. How will their feud end and what effects will it have on their growing boys? Check out The Place Beyond the Pines this weekend at Harkins Theatres to see how this drama unfolds.
This film's R-rating makes it a great adult night out. Check your children ages 3-8 into the exclusive Harkins Theatres' in-lobby PlayCenter and go view the movie of your choice. Your kids will be looked after by fingerprinted, background checked professionals for less than the cost of a movie ticket!
For more information on show times and ticket prices, please visit Harkins Theatre.