The Hottest Design Trends
Apr 17, 2013 11:19AM ● By tina
Clean floral prints on white backgrounds such as this Victor chair from West Elm, are hot this season
The Hottest Design Trends [5 Images]
Click Any Image To Expand
....And How to Bring Them  Home
Forget spring cleaning! Spice up your home by incorporating some of this year's hottest trends in interior design into your décor. From paint and fabric to accessories and accents, updating your home's look doesn't have to take much time, effort or expense. Wardrobe's change looks season to season; why can't our homes too. Don't leave your space behind in 2012, bring it firmly into the present. One quick word of caution, though: As always, trend lightly!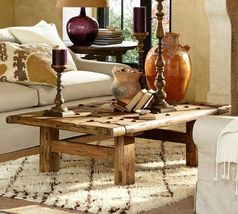 Naked, Nude and All-Natural
The all-natural look of an unfinished material, particularly wood, can soften almost any room, and the eco-friendly production, particularly of repurposed wood like the coffee table pictured here bodes well for the environment to boot. If the introduction of a new furniture piece seems too daunting, update your interior's existing look with unfinished accessories like these kitchy bowling pins with a natural finish. 
Going Green
This spring, it's easy being green. Pantone, the official officiator of all things color, determined emerald green to be the color of 2013. Draw this hue into your home by brightening up a single wall. The more adventurous can incorporate stripes of green and one — or more, if you're wild — of the other popular hues, burnt orange, eggplant and royal blue. If paint's too much of a commitment, keep it simple with this serving buffet with a deeply distressed finish that gives it a well-worn antiqued look. We also love this soothing hand-cut glass, mosaic mirror from Pier 1 Imports.
It's Raining Men!
Expect to see more masculine elements present in showrooms for the foreseeable future. The increasing participation of men in the design of their homes has translated to cleaner lines, starker contrasts and simpler palettes. Think more gray, black and white and more modern-looking spaces. But don't abandon that overstuffed chair yet — this trend simply means that spaces should reflect the aesthetics of both women and heretofore underrepresented men. We love this stark bed from Restoration Hardware but if that's too much, try the nightstand, perfect for storage throughout the house. Both offer a nice contrast of masculine material and a soft antique finish.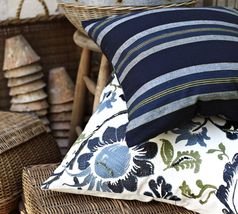 Floral Flourishes
We waved buh-bye to floral-prints in the late '90s, but now…they're back! This spring, not only will you be seeing floral prints on jeans again, you'll also be seeing them on couches, chairs and beds. But not just any floral will do; look for clean prints on white backgrounds. Use prints sparingly — don't go for that matching floral-print living-room set, no matter how tantalizing a salesperson makes it seem. Stick to just one piece, like this Victor chair which uses the on-trend color green. Pick one of the colors in the print and draw it out through paint choices, side chairs and accessories. Still too scared to go near a floral chair? Play it safe with a floral accent pillow.