Trailer Talk: Movie Previews for April 19
Apr 19, 2013 10:34AM ● By tina
Tom Cruise returns to the big screen to save humanity from extinction in sci-fi thriller, Oblivion
Tom Cruise returns to the big screen this weekend with the latest sci-fi thriller, Oblivion. Set in a post-apocalyptic Earth, the world as we know it no longer exists- after a war with a terrifying alien species, the Scavs, most of the human population has been evacuated to a far-away lunar colony to start over.
Cruise plays a drone repairman, Jack Harper, who's finishing up the last two weeks of his duty on Earth before he joins the rest of Earth's former inhabitants at their new home. After rescuing a beautiful stranger who's crashed in a spacecraft, Jack begins to question his reality and everything that he's come to believe. Jack then realizes he must risk everything to save humanity from extinction.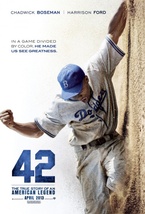 Also in theatres this weekend is the biopic, 42, which tells the incredible story of the first African-American baseball player, Jackie Robinson. This tale of bravery and triumph in adversity will warm your heart and inspire you to do whatever it takes to follow your dreams.
Whether you're in the mood for action, science fiction and a little romance or motivation to pursue your dreams, Harkins Southlake 14 Theatres has the movie for you. Bring the whole family out this weekend to enjoy popcorn and a flick and drop the little ones off at our Harkins Theatres exclusive, in-lobby PlayCenter for less than the cost of a movie ticket.
For more information on show times and ticket prices, please visit Harkins Theatre.