Dual Dynasties
Apr 23, 2013 03:09PM ● By tina
With two back-to-back state championships Carroll's cross-country teams credit a combination of factors to its success - Photo courtesy of BluDoor Studios
Carroll Cross-Country Teams' Back-to-Back Championships
By Catherine Adcock, Deputy Editor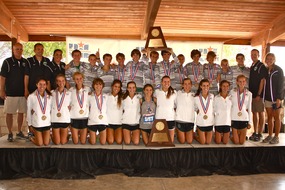 You could say they have the makings of a dynasty. For two years in a row, Southlake-Carroll's cross-country teams roundly trampled the competition to take home both boys and girls state titles after years of medaling at the competition. That's to say nothing of being named the best cross-country program in the nation by athletic brand Nike for two consecutive years as well. For competitors, the teams' unassailable reputation precedes them. But for the Southlake-Carroll runners, it's just being part of the family.
"They're constantly doing things together to create that family environment," says head coach Justin Leonard. "That's what sets us apart. The more they care about each other the harder they run."
The program built by Leonard and eagerly adopted by the athletes also deserves some of the credit. The no-cut, no-captain teams run using the all-in Praavo program, all while Leonard impresses on them the values of hard-work and dedication. "I spend about 80 to 90 percent of my time in study skills and logbook sessions talking about hard work, dedication, motivation, character."
Cross-country at Southlake-Carroll is a no-cut sport — which only supports the all-in-it-together team ethos. Nearly 150 students joined the cross-country team this academic year. "We don't have try outs," says Leonard. "We don't have kids who don't make the team. Anybody's welcome to come and run." Not all students compete, but the joy of long-distance isn't restricted to those who go to the state meets.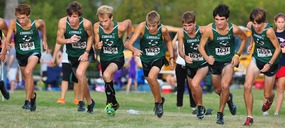 It only further supports the hard work necessary to achieve the excellence the teams have become known for. "Kids respect work. You can take a kid who's a 10-minute miler but is running 60 to 70 miles a week and putting in just as much work and effort as the top guys — those kids respect kids like that." Leonard extrapolates to that supporting the team's mission of being the best. "It's a positive environment that encourages hard work. The kids really buy into that, and they respect it."
As for Leonard's unwillingness to select a team captain, he feels strongly it's best to let the kids lead themselves. "Different kids look up to different kids. We have different leaders. Leaders who aren't very vocal and go out and get the work done; then we have the vocal leaders who get everybody in line and talk."
Long-distance running by its very nature requires hard work and dedication, particularly for the team members at Southlake-Carroll. The team trains almost non-stop throughout the year according to the dictates of the Paavo method. "Paavo" stresses year-around running without any days off, and interval work close to race day. Challenging the prevailing wisdom that high school runners need some time off, and that interval workouts should end well before a meet, "Paavo" calls for the opposite. 
With year-round running and few, if no, days off and interval training all-the-way up to competition day, the method translates to a work ethic that takes Carroll to the top time and time again. It goes against the convention that runners need time off and work-outs should be end well before competition. "More than anything, it's a mindset that our training has, that hey, we're going to do this no matter how you feel. We're going to find a way to get it done. And I think that's carried over into the way we race."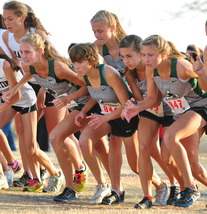 What led to the team's dominance for two years straight though? A combination of those factors, says Leonard, in addition to a very strong, experienced senior class. Both the girls team and the boys team had four-year varsity runners. For the girls, Courtney Kriegshauser and Shelby Chapin; and Trevor Gilley and Joe Stansone on the boys. "That's the type of leadership that you can't replace," says Leonard. "They've been used to the big meets. They've been on the big stage before. That's something that they did well because they've done it so many times and got to where that was what was expected of them."
Southlake-Carroll returned from the state meet with no fewer than eight individual medals. Four of the boys placed in the top six: Nate Sullivan, No. 2.; Joe Sanson No. 3; Trevor Gilley, No. 4; and Connor Hendrickson No. 6. The girls placed almost exactly like the boys, four in the top seven: Courtney Kreigshasuer. No. 3; Shelby Chapin at No. 5; Elena Arriaza, No. 6; and Antigone Archer, No. 7. "Elina Arriza, at the end of last season, her junior year, she was number 18 or 19," says Leonard. "One year later, she got eighth as an individual, helping secure our state championship and second place at nationals. That's just buying in and putting in the work, knowing that she could do that and believing in herself."
After the teams won state, they qualified for the superelite Nike Cross Nationals (NXN) in Portland, where the top 22 teams in the country compete for the unofficial national title. Southlake-Carroll was represented by 14 runners, eight girls and six boys. The girls took home the runners-up trophy, the boys eighth. (In 2011 the boys were the runners up and the girls placed seventh). Individually, Shelby Chapin and Courtney Krieghauser came in ranked No. 22 and No. 54 respectively; for the boys, Nate Sullivan, No. 20, Connor Hendrickson, No. 30, and Joe Sanson, No. 31. Along with the wins came the accolades: Nate Sullivan was named All American and the program itself won the title best program in the country — again.
 "I always tell the kids at the qualifier for nationals, you're going to run for a chance of a lifetime, you're going to be treated like royalty." At NXN, athletes train at the same track the professional runners signed to Nike train on. Each region is represented one professional runner to act as a mentor through the meet, like two-time Olympian distance runner Andrew Wheating. "It's a good environment where the distance kids and cross-country as a sport are looked at as very important — with huge rewards for them," says Leonard.
As the Southlake-Carroll cross-country champs graduate several seniors, Coach Leonard looks ahead to the future. He notes that both teams are returning several varsity runners: Antigone Archer, Katie Burnham, Taylor Ullman and Maddie Keen on the girls team; Connor Hendrickson, Eli Canal and Jacob Pickle on the boys. "I just take it one year at a time and every year is going to be different — the team is going to be different." He goes on to note, "The goal is going to be the same — It's just striving for excellence, and the team is going to get it done."
Leonard is proud of the team's success, but prouder still of the life-lessons the student-athletes get: "In order to be a good distance runner, you have to work hard. There's no way around it. For a kid to run a 100-meter dash, you're either fast or not. In distance running you can become pretty good if you're willing to work hard. It's so comparable to life — you're going to have to put in the work to be successful.
"I feel like my job is try to prepare them for the years beyond high school. If I can teach them about hard-work and dedication, I've done my job."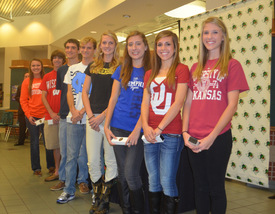 Success Breeds Success
Elite 8 Collegiate Signees
Carroll's Cross Country teams placed an unprecedented eight collegiate signees during this year's National Signing Day ceremonies.  Those going on to the next level include;
Shelby Chapin (Arkansas), Elena Arriaza (Oklahoma), Lauren Berry (Memphis), Courtney Kriegshauser (Vanderbilt), Joe Sansone (North Carolina), Trevor Gilley (Ole Miss), Nate Sullivan (Wisconsin), Annie Fillers (Northwestern State).