An Expression of Love
May 10, 2013 11:44AM ● By tina
"When I count my blessings, I count her twice," says Preston Stone, this year's author of Southlake Style's Best Mom Essay Contest.
Southlake Style's 8th Annual Best Mom Essay Contest
Using just about every one of his allotted 500 words, young Preston Stone was able to share a great story of family triumph, tell his mom he loved her and remind all of us what truly matters when it comes to raising our children. After hours of reading, laughing and shedding a few tears, we were we moved by Old Union fourth-grader Preston Stone's just-right expression of love for and admiration of his mother. For inspiring her son to write such a heartwarming essay, Jerri Stone stands out as our Best Mom 2013! On winning this year's title, Jerri says, "Hearing Preston's essay made me feel so proud. As a busy mom, you're constantly dealing with 'mommy guilt,' and hearing his sweet essay assured me that he knows I'm always there for him."
Throughout her fight with breast cancer, Jerri cites Preston and the entire family for helping her carry on. Now that she is feeling better, they plan to continue to experience new places as a family — but not before she enjoys the "incredibly generous" gift package worth $2,500 thanks to the contest's sponsors.
My Mom ~ An Angel In Disguise
By Preston Stone
4th Grader at Old Union Elementary
"Perfect" isn't even a word that could meet the descriptions of my mom. You could hang her by her toenails and chain her to a wall, but that still wouldn't stop her from doing what she does. My mom brings an everlasting light to the world.
One thing that makes my mom magnetic to greatness is how she leaps over the obstacles in her life. One obstacle she came face-to-face with was breast cancer. She had to fight chemotherapy and let the medication sink into her bad cells. She became weaker and weaker every time she went to the doctor's office but still pulled through to make my life better, even though hers got worse. The chemotherapy also caused her to lose her hair. She had to observe her friends and their long, silky hair while she was bald, but she just kept chugging along. When my mom was born, God gave her an extra coat of independence, courage and determination. She may have lost her hair due to horrible disease, but she still didn't lose her love for me.
My mom is a hard-working mom who is always there for me. She leaves the house at 7:00 a.m. and arrives at the house by 7:00 p.m. because of her job. But if you think that she is a mom who only focuses on work and never gets around to her kids, then you're wrong. In the morning, she works around the house from 5:30 a.m. to 6:30 a.m. Then, she cleans herself up and still manages to make lunches for three boys.
Somehow in the craziness of the morning, she still manages to put a nice breakfast for the family and get out the door by 7:00 a.m. Then, she has a full day of boring meetings and sitting in a stuffy office all day. She works as hard as she can there, for five days a week to make sure that every day we have food on our table and that we have a roof to live under. When she gets home, she takes me to my sporting events. When I know that she wouldn't care if she saw another minute of sports, she is still there and cheers for me every second. Then, at the last moment of the night she tells me that she would dive into a tank of sharks or land on the sun to rescue me, just to see me one more second, and when I count my blessings, l count her twice.
My mom will always be there for me. She will back me up and carry me to light in the darkest tunnel. For that, I am grateful to be blessed with such a great mother that gives me a great life. Without my mom, l would be a small fish in a big ocean. Although she can't hold my hand forever, she will always hold my heart.
She is my hero.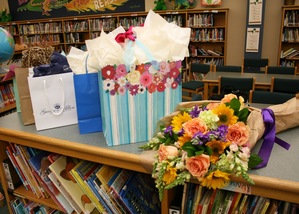 For the eighth straight year, Southlake Style has partnered with local businesses to showcase area mothers through the writing of their loving children and husbands. Each year hundreds of essays pour in — some typed, some hand-written and others adorned with colorful stickers and glitter. Even though only one mother can take home the stellar prize package, we aim to show every mom how much they are loved.
Through the longstanding support of our generous sponsors, we were again able to award a prize fit for a queen. In all, this year's package was worth close to $2,500 and includes sparkling jewels, luxurious spa treatments, a night at the Southlake Hilton and so much more. For more information, visit SouthlakeStyle.com.