Spokes 4 Hope Visits West Elementary
May 17, 2013 02:41PM ● By tina
Over sixty bicycles were delivered to children who were displaced from their homes after the deadly explosion in West, Texas.
Spokes4Hope Visits West, Texas [33 Images]
Click Any Image To Expand
Spokes 4 Hope Bicycle Gifting to the Children in West
Submitted by Kevin Howell
Spokes 4 Hope is a local charitable organization founded in 2007 by Kevin Howell, Alton Wells, Mike Norris and Craig Ludwig and supported by North Texas police motorcycle officers. The primary focus of the group is to gift needy and abused children Bikes and Helmets for Christmas in the local communities thru children's advocacy centers, schools and orphanages to let these deserving Kids know that people do care and love them. The police officers donate their time and money for Bikes and Helmets by participating in the annual Southlake DPS & Keller PD Police Motorcycle Rodeo benefitting the Kids of Spokes4Hope.
Over the past 6 years thousands of deserving Girls & Boys in North Texas have been gifted new Bikes & Helmets. It is very important at a young child's impressionable time in their lives that they know there is good in this world and people do care and love them and the current difficult times are temporary and to keep the faith and "Ride On to a better Life".
On May 09, Keller Williams Realty (Southlake, Texas) had their annual "Red Day" Event and partnered with Members of 'Spokes4Hope' to build 100 bicycles for children in need. More than 60 of the bikes were designated to go to kids at West Elementary School in West, Texas who are still living in shelters with their families who were displaced following the deadly explosion several weeks ago.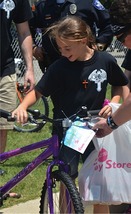 On May 17, representatives with Spokes 4 Hope, their volunteers, and uniformed Police Motorcycle officers from various cities left Southlake Carroll Dragon Stadium at 0930 am headed to West Elementary School. They escorted the Spoke 4 Hopes 18 wheeler which was full of bicycles, helmets, and toys for the children. The Spokes 4 Hope members, volunteers, police officers, and local sports athletes (Texas Rangers and Dallas Stars) arrived at West Elementary School at noon to gift the bicycles, helmets, and toys to the children of West. 
See the gallery below for pictures of the visit.