Major League Miracles
Jun 07, 2013 11:55AM ● By tina
Miracle League player Asa Gutierrez and Rangers second baseman Ian Kinsler have a ball at the groundbreaking. Photo by Kelly Gavin.
Miracle League Groundbreaking Ceremony [8 Images]
Click Any Image To Expand
The Miracle League Breaks Ground in Southlake's Bicentennial Park
By Linden Wilson, Assistant Editor

The crack of the bat. The thud of a ball hitting the glove. The called third strike of an umpire. Who among us hasn't relished the smells, sights and sounds of our national pastime, whether hitting a single for your alma mater, boldly stealing second at a Memorial Day picnic or messily snacking on Cracker Jacks and hot dogs post-game during your days as a little league player. But unfortunately for plenty of youngsters, home base couldn't be farther away.
However, nothing could keep one formidable youth in Atlanta from the game. In the late '90s, Michael, a 7-year-old in a wheelchair, cheered on his 5-year-old brother at every one of his games, even though he couldn't play himself. The team made adjustments so Michael could join in, and the league's heightened awareness of a problem — those with disabilities being denied something as American as apple pie — eventually led to the creation of the Miracle League in 2000.
On May 1, 2013, ground was broken in Bicentennial Park, site of Southlake's first Miracle League field scheduled to be completed by 2014. Famous faces dotting the crowd included Texas Rangers stars Ian Kinsler and Elvis Andrus, the team's general manager Jon Daniels, Texas Ranger Hall of Famer Jim Sundberg and Southlake Mayor John Terrell. They all joined Miracle League of Southlake President Phillip Meyer for the beginning stages of their mission to ensure that all area children will be able to participate in our proud tradition of baseball.
Making of a Miracle
The organization's creation could be called, for lack of a better word, miraculous. The first Miracle League field opened 13 years ago in Atlanta. Wheelchair-bound Michael's participation in the sport led a local baseball association to create a team for several other handicapped children. When the association discovered that there were more than 75,000 children in the Atlanta metro area with disabilities who could not join any team sports, they enlisted the aid of local corporations and volunteers, breaking ground on the city's Miracle League complex in late 1999. It opened four months later with a roster of 120 players. A boy who had been in a coma only one week beforehand threw the first pitch.
Two years later, the roster more than doubled, and parents began to realize that not only did the Miracle League provide a way for their children to play baseball, but it also allowed them to spend time just being normal kids. They were able to engage in physical activity, cheer one another on and form friendships that might not have been possible otherwise. The players, who have autism, Down's syndrome, vision impairments and other physical challenges, play on a rubberized field with painted base paths and bases designed to prevent injuries and guarantee that wheelchairs and walkers are no obstacle; wheelchair-accessible dugouts are also built together with each field. Today, the Miracle League has expanded to include at least 250 organizations across the country and around the world, including Canada, Puerto Rico and Australia.
In 2004, Doug Inman, a prominent Arlington-based business entrepreneur in the medical-instrument field, became deeply touched by what he had seen and heard of the Miracle League on television. He called it a "spiritual experience" and spoke to his close friend, Jim Sundberg, about how to bring it to the DFW area.
"Doug approached me about looking at a film," Sundberg said. "So I went to his house, and he popped in a Miracle League video. He was in tears watching it, and he impressed upon me the need for a local field. It's because of Doug's vision that we are where we are today." Inman, who passed away in 2007 from melanoma, raised an initial $400,000 to construct the Metroplex's first Miracle League field on land donated by the City of Arlington at Randol Mill Park, and the field was completed in 2006. Two additional fields in Frisco and Irving (which opened in 2006 and 2009, respectively) were also built before the plan was put in motion to create a field in Southlake.
Field of Dreams
The seed of the dream of bringing the Miracle League to Southlake was first planted in 2009 when longtime resident Meyer, much like Inman, became inspired by the league's mission. He read about the Miracle League of Arlington's buddy program in his Sunday newspaper and knew he wanted to join. Every Miracle League player is assigned a buddy during games to assist, cheer and make sure he or she stays safe moving from base to base. Meyer, a vice president and investment associate at Merrill Lynch, wanted to be a part of a different kind of charity, and Miracle League was just that.
"I'd spent so much time on corporate boards and wanted to do something outside the box and outside of my comfort zone," he said. "I don't know anyone who is disabled, so it was very different for me. Being around those children who are handicapped but can still play baseball was such a unique and positive experience." Meyer had been volunteering as a Miracle League buddy in Arlington for under a year when he was met face-to-face with a health problem that restricted his own mobility. A routine surgery to remove a tumor in his cheek led to a more serious discovery.
"During the recovery process, they found that I had a blood disorder," he said. "I spent six months going to UT Southwestern Medical Center, having to go through infusions and transfusions. This was going to limit my physical activity, so I wanted something to replace golf." Meyer reached out to the national Miracle League about founding a Southlake chapter. He also met with Jim Sundberg's daughter Bri, who serves as the director of marketing and development for the Miracle League of DFW, and was put in touch with Mike Mills, also a Southlake resident and noted area baseball coach.
"We then met with John Slocum, who's on the Southlake Parks and Recreation board, and the city's plans for Bicentennial Park just collided perfectly with our vision of what we wanted to do," Meyer said. "Our other option had been to either go out and buy land or try to get a donation from the corporation. But Bicentennial Park is the perfect location."
Southlake's first park, Bicentennial was acquired by the city in 1970 and developed by the Texas Parks and Wildlife Department. Back then, it covered just 10 acres of land. As the years went on it continued to grow, and by May of 2000 it had swelled to 76 acres with its last land acquisition given by former city councilmember Ralph Evans. In 2007, the city decided to give Bicentennial Park a massive makeover, and the award-winning first phase was finished in September 2011 with the completion of the Pinto and Mustang baseball fields.
"They are straight out of the movie Field of Dreams," Terrell said. "They have certainly set the stage for what is to come in the next phase of improvements, including the Texas Rangers Miracle League Field and the new 1.3-acre, all-inclusive custom playground." The playground will also incorporate a fourplex, new concession and restroom facility, a park boulevard connection to White's Chapel Boulevard and walking trails for anyone who wants to go exploring.
"We are blessed and excited that our dream for a premier and nostalgic park is being realized," Terrell adds. "We've waited a long time for this day, and there's been a lot of planning that has gone into this."
Lemons Into Lemonade
Meyer, whose daughter, Addie, was part of the duo who sang the national anthem during the groundbreaking ceremony, calls the evolution of the Miracle League of Southlake a lemon-into-lemonade story, and that couldn't be closer to the truth. The support from the Texas Rangers Baseball Foundation, led by Sundberg as its president, provided much-needed assistance in getting the plans off the ground. Ian Kinsler, the Rangers' star second-baseman, said he was happy to help an organization that brings baseball to children who love to play but might not have access to the sport.
"That's the cool thing about the Rangers Foundation," he said. "We give kids, whether they're inner city or special needs, the opportunity to play. To bring that joy to them is really cool. Our foundation's main goal is to help out children, and obviously we're a baseball organization, so it always goes back to that. Anytime baseball's involved, I like to be around."
Sundberg, who received nodding heads of agreement from the audience at the groundbreaking when he called Ian and superstar shortstop Elvis Andrus — who recently signed an eight-year, $120 million contract extension — "the best double play combination in the major leagues," was in awe of the turnout. His voice was fraught with emotion as he conveyed just how meaningful the day was to everyone who helped and everyone who calls Southlake home.
"The Miracle League is not only about partnership, but it's also about friendship, and friendship is really extending a hand of support and encouragement to one another," Sundberg said. "I consider everyone who's a part of this a partner and a friend. The Miracle League is a true experience when the parents of these kids get to go and watch them play. It's a big part of their life."
The Miracle League of Southlake, which received a $100,000 donation from the Texas Rangers Baseball Foundation, has been so successful that before a shovel was even put into the ground, every sponsorship spot filled up. Along with the support of the Rangers, sponsors include Gamestop, the Kim Miller Group (as part of the Keller Williams Luxury Group), and Classic Chevrolet as the scoreboard sponsor.
"It's quite amazing, the support we've received," Meyer said. "This will absolutely be a centerpiece for the city of Southlake."
Take Me Out to the Ball Game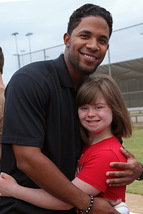 The kids on hand to see the field of their dreams come to life included Sam Klein, Brandon Thompson, Amber McDonald and Asa Gutierrez. Just like on game days, they were all smiles, even stopping to sign autographs for their own adoring fans, including Kinsler. When Southlake pastor Bob Mason prayed over the new field, his poetic words resonated with every parent in attendance.
"I travel all over the world on a regular basis," he said. "We do work with orphanages and children who have gone through tsunamis, earthquakes and hurricanes in Haiti, South Africa and Southeast Asia. When I see God's hand helping those children, I am so deeply moved and blessed, just as I am for this event." The groundbreaking was a true family affair — Sundberg lit up as he expressed how much he loves working alongside his daughter Bri, and Meyer echoed how much time, effort and dedication she puts into her job.
"Two years ago, Bri came into my life, and if anyone knows Bri, they know she's a force to be reckoned with," he said. "One thing you don't ever do is mess with her Miracle League kids." Upon its completion, the Texas Rangers Miracle League Field will become a sanctuary where players can bat, run the bases, play the outfield and form lifelong memories, just like Sundberg dreamed about when he was a kid.
"When I was growing up, I can always remember wanting to be a Major League baseball player," he said. "I wanted to play baseball. I grew up across from a ballpark and was in the field every day. My dad drove me several times during the year, 180 miles to watch the Cubs play. To be on the field, to smell the grass, to run around is almost American. It is American. This concept allows every kid the opportunity to play baseball."