Graduation of a Dragon Legend
Jun 11, 2013 04:35PM ● By tina
Awarded the 2013 Dragon Athlete of the Year by CISD, Courtney Kriegshauser is one of the most decorated Dragons in school history.
By Karlie Hatchett, CISD Communications & Marketing Intern
When this school year came to a close, the Carroll Dragons were forced to say their goodbyes to another senior class. This year's included cross-country and track star, Courtney Kriegshauser, one of the most decorated Dragons in school history. With eight University Interscholastic League medals and several district and state titles, Courtney has been a driving force in both sports.
In the 2011–2012 and 2012–2013 school years, she led the cross-country team to back-to-back Class 5A championships and also won two of her own championships in the 1,600-meter. This past year, despite the loss of five seniors, the cross-country team also won the 2012 Nike Cross Nationals runner-up title. In addition to her medals on the track, Courtney was also awarded the 2013 Dragon Athlete of the Year by Carroll ISD.
The youngest child with two older brothers, Courtney learned from an early age how to be competitive. Soccer was her sport of choice in middle school, but after some persuading by her parents and Carroll cross-country and distance track coach Justin Leonard, Courtney decided to join the cross-country team. During her freshman year, she secured a spot on the Top 7 Elite travel team, and the rest is history.
"Courtney definitely has natural ability, but she maximizes that through her work," Justin says. "She does nothing halfway — she is all in." Courtney is not only an excellent athlete, but she's also proven her worth as a leader on and off the track.
"She is one of the best leaders I have ever seen," Justin adds. "She is vocal, constantly encouraging teammates. No one would outwork her, and she has definitely walked the walk." In addition to athletics, Courtney has also been an outstanding leader in her school and community. She was a member of the CISD Yearbook Staff, National Honor Society, Quill and Scroll Society and National Charity League, among many others.
"Balance is something that comes quite naturally to her and has probably kept her from burning out in a sport that demands one- or two-a-day workouts every day of the week," says Lisa Kriegshauser, Courtney's mother. "As her mom, I stand in awe of her every day. Her life is crazy, but she is always so calm. It is as if Courtney has always known who she is."
Courtney's motto for the past four years has been "they never said it would be easy; they said it would be worth it." She reminds herself of this as well as other motivational quotes and goals by writing them on her bathroom mirror. According to her mother, they act as a constant reminder of where she is going. But perhaps what motivated the Lady Dragon most was when she saw how her running affected her teammates.
"Originally, I ran because I loved to race," Courtney says. "Then, people started telling me how I have inspired them, and I realized that I had a bigger purpose. This motivated me to work even harder and led to later successes." After spending 10 years at Carroll, Courtney says what she will miss most are the friendships she has made. She plans to continue her running career at Vanderbilt University in Nashville on an athletic scholarship starting in the fall.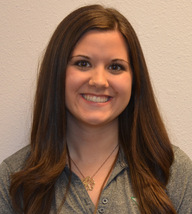 Karlie Hatchett is a Carroll ISD Communications and Marketing department summer intern. She graduated from Fort Worth Christian High School in 2010 and is currently a senior at Abilene Christian University. She is studying communications with minors in family studies and English and plans to graduate in May 2014.