Trailer Talk: Movie Previews for June 14
Jun 14, 2013 10:29AM ● By tina
With an all-star cast including Amy Adams and Russell Crowe, this latest installment of the popular comic book series promises to deliver an action-packed adventure.
This weekend, Harkins Southlake 14 Theatres brings you the latest remake of a classic along with a star-filled comedy about the end of the world with Man of Steel and This Is The End.
Man of Steel, starring Henry Cavill as Superman, is the latest reboot of the classic comic book series. This Superman prequel tells the story of a young Clark Kent, an alien born on the planet Krypton and sent to live on Earth where he is adopted by simple farmers in the heart of Kansas. As he grows older, Kent realizes that he has special powers and struggles to deal with the responsibilities that come along with them.
Later in life, Kent becomes a reporter with the city's newspaper, "The Daily Planet," where he befriends the feisty Lois Lane. Not long after leaving his simple life in Kansas, aliens led by General Zod come from a planet light years away to destroy Earth. Kent must use his powers to defend the world and its inhabitants. With unbelievable action and great cinematography, viewers should catch this premiere in Harkins Theatres' Cine Capri for the ultimate moviegoing experience.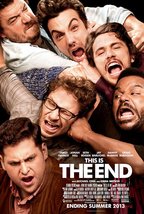 Also premiering this week at Harkins Southlake 14 Theatres is This Is The End, an end-of-days comedy movie filled with a star-studded cast including Seth Rogen, James Franco, Danny McBride, Craig Robinson and more. The night begins with all of the actors, who star as themselves, making their way to a party at James Franco's mansion. The party ends abruptly when the crowd of celebrities realize that an  apocalypse is about to destroy Los Angeles. They must band together do whatever it takes to survive.
Drop your children off at Harkins' exclusive in-lobby PlayCenter to be entertained by fingerprinted, background-checked professionals while you enjoy this action-packed comedy. At only $6 per child, it's a deal. Walk-ups are welcome and reservations are recommended.
For more information, please visit Harkins Theatres.