Trailer Talk - June 21
Jun 20, 2013 01:12PM ● By tina
Billy Crystal and John Goodman reprise their roles in the new prequel to Monsters Inc.
Premiering this weekend at Harkins Southlake 14 Theatres are two of the summer's most highly anticipated films – Monsters University and World War Z.
Monsters University is the perfect family friendly film for parents and children to see together. The prequel to Monsters Inc., this film tells the story of how Sulley and Mike met and became unlikely best friends.
Ever since Mike Wazowski was a young monster, he dreamed of going to Monsters University and becoming the best Scarer around. Mike meets James P. Sullivan, or Sulley, during his first semester at Monsters U and they quickly become avid competitors, only to find themselves kicked out of the University's prestigious Scare Program. The only way to get their futures back on track is to put their pride aside and work together, along with a group of misfit monsters, to become the Scarers they are destined to be. Join in on the fun this weekend at Harkins Southlake 14 Theatres!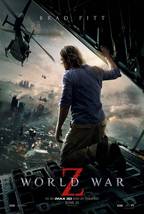 Also premiering this weekend is the newest zombie flick to hit theatres, World War Z. Adapted from the book by Max Brooks, Brad Pitt stars as United Nations employee Gerry Lane in a post-apocalyptic world. Gerry travels around the globe trying to save the human race from the ever-growing army of zombies. This film is rated PG-13, so drop off children ages three through eight at Harkins' exclusive in-lobby PlayCenter where they can play games, build puzzles and of course, watch movies. At only $6 per child, it's a deal. Walk-ups are welcome and reservations are recommended
For more information on ticket prices and movie times, please visit Harkins Theatres.