Good Things Take Time
Jun 21, 2013 10:44AM ● By tina
Mayor John Terrell receives a signed ball from Asa Gutierrez at the ground breaking ceremony. Photo courtesy of BluDoor Studios.
City View by John Terrell, Mayor of Southlake

Recently, the City of Southlake was named the best place for empty nesters and the No. 1 suburb by The Dallas Morning News. It's an honor to be recognized in these ways, especially considering how many truly great cities make up the Metroplex.
Compared to other cities, Southlake is relatively young. Although it was incorporated in 1956, Southlake as we know it now really began in a spurt of population growth that dates to the late '80s. Out of a rural area made up of farms and ranches came structures necessary to any thriving community — schools, homes, shops and businesses. Southlake's geographical location and the willingness of residents and city leaders to consider the future today are what make it truly great. Here's a short list of what big future thinking looks like: 
-  Create a phenomenal downtown area.
-  Create an award-winning parks system that serves a variety of interests.
-  Make critical investments into safety and security infrastructure.
-  Plan and build road, water and sewer projects.
It's quite a list, and these projects don't just happen overnight. Solid infrastructure investments take time as does nurturing a strong financial plan that is sustainable through the years. A recent example: the recently opened T.W. King 30-inch water line that travels from Fort Worth to Southlake's T.W. King Pump Station No. 2, located in the northern part of the city. This water supply line will ensure the city is able to meet our projected water demands in 2025. We started construction on the first two segments of the line in 2009. Just a few months ago, the final segments were completed, and the line was filled with water and is now in service.
Many of you probably didn't notice the change, and that's a good thing. It might or might not become more obvious this summer when increased demand places a greater strain on the city's water system. In preceding years, because of the way the water was distributed, the system had to work a lot harder to keep up with demand in certain parts of the city. The 30-inch water line will help alleviate that problem as well as help provide water to new houses that are still under construction.
We've got many current and future projects that, when completed, will only enhance Southlake's livability. Local road construction, new water lines, a Texas turnaround on SH 114 near the new Gateway Church, and the DFW Connector are all projects that support the vision of a city that is well-planned and ready for the future. Want to learn more? Keep an eye on the City of Southlake's website for the latest information.
It takes teamwork to make these big projects a reality. I am looking forward to working with newly reelected Mayor Pro-Tem Brandon Bledsoe (place 3), councilmember Randy Williamson (place 4) and councilmember Laura Hill (place 5) on Southlake's vision for the future. I am confident that this new council team will continue with the good work that is helping us reach our goals.
There's more to come. You should see the plans for Bicentennial Park Phase 2 complete with the Texas Rangers Miracle League Field (scheduled to be completed in September 2014) and the sidewalks that will help fill in the gaps on Southlake Boulevard, plus the expansion of FM 1938/Davis Boulevard. Soon they will be part of the Southlake landscape, and we won't be able to imagine life without them. So while we are going through some growing pains, please remember that it's these improvements that make Southlake one of the best places to live not only here in the Metroplex, but in Texas. 
Here's to the future. See you in Southlake.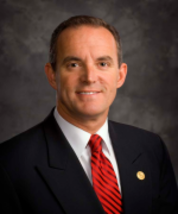 John Terrell, vice president of commercial development for DFW Airport, has spent countless volunteer hours in service to the City of Southlake.  He served two terms on the city council prior to becoming elected Southlake's Mayor in 2009 and again in 2012.  Married to wife Joanne and father to two Dragons, the 2012 Southlake Citizen of the Year has called Southlake home for more than 15 years.