Hi-ho Silver!
Jun 24, 2013 03:43PM ● By tina
Meet Silver, from Disney's "The Lone Ranger" at the Mesquite ProRodeo.
Hi-ho Silver! Mesquite ProRodeo Announces Movie Star Guest
Submitted by Suzanne Gentry Flodin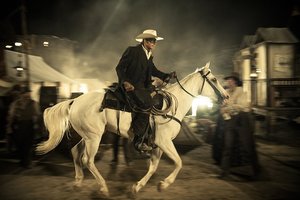 Silver, the equine super-star from Walt Disney Picture's The Lone Ranger, is making a once-in-a-lifetime appearance at the Mesquite ProRodeo on Friday, June 28, to promote his new film. While Silver is obviously the star (just ask him!), other Hollywood heavyweights such as Armie Hammer and Johnny Depp will also appear along-side Silver in this new adaptation of a screen classic.
Get there early to meet Silver, stay for the non-stop thrills of real Texas rodeo, and get all the rodeo action you can handle! Don't forget the camera as you take you and your kids' pictures with Silver from Disney's "The Lone Ranger." The whole evening will be a celebration of all things Silver. The first 100 patrons through the door will receive screening passes for two people to see The Lone Ranger. Kids will also receive free Lone Ranger masks and bandanas!
The Mesquite ProRodeo has hosted many celebrities, including kings, presidents and rock stars in its 56 years as a Texas tradition. Now, the rodeo is hosting a Hollywood star. Don't miss your chance to meet this equine super-star and get a photo – make sure to bring your camera! In addition to meeting Silver, there are pony rides, horse-drawn wagon rides and a photo bull – not to mention unbeatable BBQ, non-stop rodeo action, and unforgettable memories for you and your family.
Tickets start at $14 and reserved seats are half-price for kids.  Visit Mesquite Rodeo to purchase tickets. 
While the action is hot, Mesquite Arena is a cool choice for a summer evening in Texas. The non-stop action at Mesquite ProRodeo is every Friday and Saturday, June through August, in the enclosed, air-conditioned arena. The PRCA-sanctioned events include the best of championship rodeo: bull riding, saddle bronc and bareback riding, cowgirl barrel racing, tie-down roping, steer wrestling and team roping.  In addition to all the excitement of the rodeo competition, there is patriotic pageantry, comedy and kid-friendly activities, such as mutton bustin' and calf scrambles, that make for unforgettable family outings.  Mesquite ProRodeo was named one of the top five PRCA small rodeos in 2012.