Secondary Infertility
Jul 12, 2013 03:19PM ● By tina
There are several factors contributing to secondary infertility.
Sponsored by Fertility Specialists of Texas
Written by Dr. Rebecca Chilvers
Have you been trying to conceive again but have had difficulty?  Are you baffled by the delay since you conceived after having children so readily in the past?  You are likely dealing with what is known as secondary infertility, and you are not alone.  Approximately one in 10 couples experience infertility after having had a child in the past without fertility treatments, either together or with a former partner.  Approximately one-half of infertile couples fall into the category of having secondary infertility, making it just as common a problem as primary infertility where the couple has not conceived in the past.
People with secondary infertility face unique stressors as well as some similar emotions to those with primary infertility, but they often suffer in silence because there is no visible sign they are infertile.  They might have family and friends or even their other children asking them why they have waited so long to have an additional baby, and they might have a sense of guilt or sorrow at not having provided a sibling for their current child.  Because they have a child or children, they are quite often around families with children and babies who are frequent reminders of their goal not yet attained.   
These couples might be more apt to "keep trying" when it has been difficult because of not wanting to believe they could have infertility or because they have received advice to keep waiting or to simply work on issues such as stress reduction.  They often find themselves busy with life, caring for their current child or children and might have inadvertently delayed truly coming to terms with the possibility that there could be a medical problem hindering their fertility.  
For couples in this situation, it is important to remember several things can change with time and affect one's ability to conceive.  For starters, the patient and/or her partner might have had subfertility in the past that was undiagnosed — yet did not hinder them from conceiving — but has worsened over time and led to infertility.  In addition, there are several factors that often contribute:
1. Advancing maternal age. Maternal age is the single most predictive factor for reproductive success as fertility is directly affected by the age of the egg.  It might have been some time since the birth of the couple's last child, and this affects both egg quantity and quality such that there is a reduced chance of conception and an increased chance of miscarriage with age. 
2. Weight gain or loss.  For women, being above or significantly below one's ideal body weight can impair ovulation and lead to impaired fertility.  For men, being overweight can lead to reductions in testosterone and elevations in estrogen, which can adversely affect sperm production. 
3. Pelvic adhesive disease.  Prior surgery or pelvic infections since or with the birth of the last child can lead to adhesions — scar tissue that prevents the fallopian tubes from receiving an egg from the ovary.
4. Changes in the uterus.  As women age, there is a greater chance they will have uterine fibroids — smooth muscle tumors that can affect chances of conception depending on their size and location.  Additionally, if someone has had a past procedure to their uterus, she could have scar tissue within the uterus itself that needs to be addressed.  Soft tissue growths such as polyps can also form in the uterine cavity and contribute to infertility.
5. Changes in sperm parameters.  Sperm quantity and function can change depending on a man's health status and his current use of medications, as well as environmental exposures such as chemicals and temperatures.  For example, infections such as chlamydia and disorders such as diabetes can lead to infertility. 
If you have been trying to conceive but find it has been difficult in spite of having children in the past, please take this important step and make an appointment at Fertility Specialists of Texas.  We have convenient office locations, including one in Grapevine across from Baylor Regional Medical Center.   If you are a woman under 35, it is prudent to seek a specialist for a formal evaluation if you have been trying to conceive for six to 12 months.  If you are a woman 35 or older, six months is a sufficient time to try to conceive on your own before a formal evaluation.  For all age groups, women who know they have a reproductive disorder or whose partner has a known abnormality affecting his sperm count should seek the care of a specialist sooner. 
At my office, the initial visit focuses on a detailed history and an examination and will lead to some testing to complete the evaluation, including one to examine the fallopian tubes, the sperm and the ovarian reserve (relative number of eggs a woman has left).  From that point, there are several resources available for overcoming infertility, and you will be counseled regarding which options are advisable for your specific needs.  Some available treatments are ovulation induction with oral or injectable medications, intrauterine insemination (IUI) and in vitro fertilization (IVF).  Please visit Fertiliy Specialists of Texas for more information.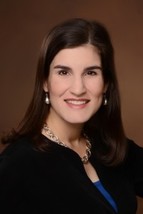 Rebecca Chilvers, M.D. is board-certified in Obstetrics and Gynecology and has completed a sub-specialty fellowship in Reproductive Endocrinology and Infertility. She received her undergraduate degree at Baylor University and her medical degree at Louisiana State University Health Sciences Center. She completed her residency and sub-specialty training at the University of Texas Medical Branch in Galveston, where she also earned a Master of Medical Science degree.
In addition to being experienced with in vitro fertilization and fertility treatments, Dr. Chilvers is one of the few women reproductive endocrinologists in North Texas who has received specialized training on the da Vinci Robotic Surgical System, a minimally-invasive option she uses for complex surgical procedures, including myomectomies and tubal reversals. Dr. Chilvers is well-versed in all aspects of infertility and enjoys helping patients with in vitro fertilization, preimplantation genetic diagnosis and fertility preservation via egg freezing.
She and her husband, Dean, currently live in Frisco with their daughter, Natalie.