Lone Star Lakes
Jul 15, 2013 03:09PM ● By tina
Lake Fork holds the Texas state record for the largest bass caught at 18 pounds.
The Great Lake Escapes of Texas
Travel with Catherine Adcock
The mercury keeps hitting 100, and life seems to consist of transferring from one over-refrigerated room to another. You desperately yearn for fresh air, the outdoors and all-natural sun — but how can any warm-blooded creature not only survive the heat but also enjoy nature this time of year? We Texans know a thing or two about surviving summer. North Texas boasts a cornucopia of bodies of water, each with distinct personalities and offerings. Southlake Style rounded up some of our favorites for nature lovers of all shapes and sizes — even those who prefer the outdoors when it's viewed through a window. Word to the wise: Be sure to check lake levels before planning your water adventure. Summer means drought in Texas, and while lower lake levels shouldn't deter you from enjoying yourself on the water, they might affect your plans.
Best for Fishing: Lake Fork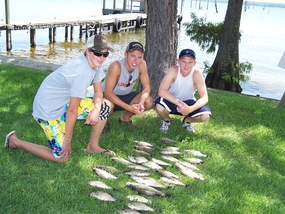 If your thing is reeling in a catch that was this big, head to Lake Fork, located 80 miles east of Southlake. From the time it was established in 1979 until 1987, Lake Fork was stocked with more than 700,000 Florida black bass. Designed to be a premier fishing lake, Lake Fork went on to become exactly that. In Texas, Lake Fork holds 15 of the top 20 records for bass fishing. We highly recommend hiring one of the many knowledgeable fishing guides before heading out if you want to reel in some big ones. If you do catch one over 13 pounds, you can donate it to the Share Lunker program in Athens. They will release your fish and give you a fiberglass model of the catch. Little ones who want to fish will find plenty of catfish and sunfish to reel in without a struggle. The lake offers fish a hospitable environment with several wooded areas — which should be avoided if your group wants to go water sporting. Fortunately, with nearly 30,000 acres of water to explore, Lake Fork has plenty of areas perfect for tubing and skiing.
Looking for land-lover activity? Nearby towns offer options for dining, entertainment and, of course, shopping. On the first Monday of every month, shoppers will find heaven in Canton at Trade day, home to a renowned outdoor antique and flea market. Other neighboring towns offer plenty of options for antiquing as well as festivals all year long.
Eat: Seth's Lake Fork Creek Steak and Seafood in Quitman boasts some of the best Cajun outside of Louisiana.
Stay: Book a room at Lake Fork Lodge in Alba with plenty of lakefront views to enjoy. 
Best for Sailing: Lake Texoma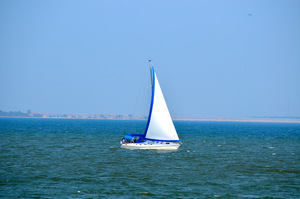 Time to haul the boat out of Lake Ray Hubbard! Lake Texoma, about 85 miles north of Southlake, offers some of the best sailing in our land-locked region. True seafarers will find this expansive lake on the Texas-Oklahoma border full of varying winds, marinas and nooks to explore. With a close-knit sailing community at the Cedar Mills Marina in Gordonville, you'll be sure to find a guide or even a wise limey to advise on gear. It has oft been said one could sail Texoma, the largest lake in Texas, for an entire weekend and not even see the whole lake.
Any outdoor recreational activity one could conceive can be pursued at Lake Texoma — kids won't want to miss the lake's sandy shores. Water sports enthusiasts will find plenty of wake-friendly waters on which they can prove their boarding skills, slalom prowess or abilities to hang onto the tube during tight turns. And fish-friendly composition of the lake means an overabundant population of finned friends to reel in. Hire a fishing guide for a day out with the family, and watch proudly as little ones reel in their first big catches.
Be sure to explore the surrounding area, filled with plenty of small towns full of shops, restaurants and history to explore.  For grown-up activities, try hitting nearby links, like at the nationally renowned Chickasaw Pointe Golf Course, or taking your chances at the nearby Choctaw and WinStar Casinos.
See: The birthplace of our 34th President Dwight D. Eisenhower in Denison.
Stay: For a romantic getaway, try Denison's Inn of Many Faces, a quaint bed-and-breakfast.
Best for Camping: Possum Kingdom Lake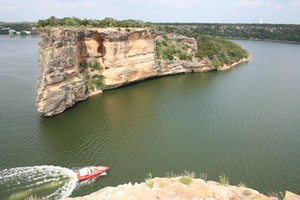 Perhaps we're partial to Possum Kingdom due to the many Indian Princess and Boy Scout campouts we've collectively been part of there, but there's more to the lake, located about 90 miles east of Southlake, than its campgrounds.
But let's start with those accommodations. Want to rough it? Book a site at Possum Kingdom State Park, where you'll find campgrounds with or without electricity and running water, depending on how au natural you like to be. If a little more luxury in the wilderness suits you, rustic Rock Creek Camp boasts sites for tents and RVs, so you can hook up your luxury vehicle and pitch a tent. It also offers a shallow swimming beach, private dock, store and restaurant, so no needs will go unmet. Standing somewhere in between full-service amenities and a fire pit is Sky Creek Camp, which offers cabins, tent campsites and RV hookups, along with electricity, bathrooms and showers.
Whether you pitch a tent or hitch up your rig, you can be sure every member of your party will never forget the experience of feeding deer at dusk. Fishers can cast lines in any of the lake's inlets to be greeted with nibbles from the catfish and bass population. For speedboat sports, you can make wakes along the Broadway portion of the pond. Paddle up to Hell's Gate, the lake's well-known natural cliff attraction to take in some breathtaking views. Perhaps you'll meet some new furry friends, like fox, deer and turkey, on one of the three nearby trails. Of course, if camping gives someone in your party the creepy-crawlies, you can always retreat to the lap of luxury at the Cliffs Resort, where a day spa and golf course can wipe away all of your big-city stresses. 
Eat: Forego the fish and order up a juicy rib eye at the Wildcatter Steakhouse in Graham.
Play: Want to scale some cliffs? Nearby Mineral Wells State Park offers excellent rock climbing adventures. 
Best for Family Getaways: Lake Travis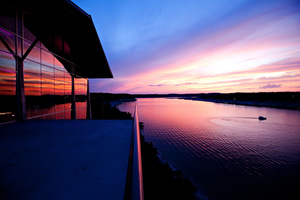 If it's good enough for Willie Nelson, it sure as heck is good enough for you. Or so our thinking goes. This 63-mile long lake located about 20 miles northwest of Austin boasts 270 miles of mostly rugged shoreline. Even in the driest of summers, the whole family can find plenty to love at this body of water.
First thing's first — take your pick of accommodations, whether in an RV park, one of the many bed-and-breakfasts or our pick, the Lakeway Resort and Spa. The luxury resort manages to be kid- and grown-up-friendly all at the same time. You can enjoy a beverage at a swim-up bar while watching the young ones enjoy a 30-foot tall water slide. Don't forget to take some 'me' time and book some of the luxury services offered by the hotel's spas. Lakeway even considers itself pooch-friendly, so feel free to bring Fido along!
Lake Travis offers all the usual adventures one would expect, including excellent boating, fishing and sailing, and then ups the ante with treats like ziplining and scuba diving — the lake is home to both sunken ships and curious fish just begging to be explored. Take a break from the pond by hitting the links at the Lakeway Golf Club, home to challenging courses, tree-lined fairways and rolling hills. While you're teeing off, let the kids enjoy nearby Shore Club Volente Beach Waterpark. With lakeside slides and plenty of pools, Volente will keep them occupied with hours of fun.
Play: Take a turn on Willie Nelson's Cut-N-Putt, a.k.a. Pedernales Golf Club, a nine-hole course with its own special rules and regulations located in Spicewood.
Eat: Treat yourself to at least one meal at the largest restaurant in Texas, Oasis, located 450 feet above Lake Travis.    
Photo Credit for Lake Texhoma: Chris Allen Bunchalotta Studios