Date Set for Annual PKD Run
Jul 22, 2013 09:39AM ● By tina
North Texas residents come together to end life-threatening genetic kidney disease.
North Texas Walk for PKD/Run the Square Raises Money to Treat and Cure Polycystic Kidney Disease 
Submitted by Judy MacMillan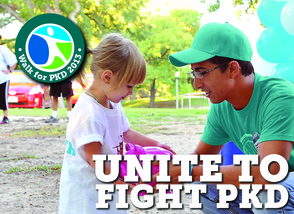 This fall, Carolyn Morris along with thousands nationwide, will come together to walk in support of those affected by polycystic kidney disease (PKD). 
PKD is one of the world's most common, life-threatening genetic diseases, often resulting in kidney failure and death. There is no treatment or cure for PKD, but there is a great deal of hope.
The North Texas Walk for PKD/Run the Square 5K is planned for September 21 at Southlake Town Square. The event will feature a 5K chip-timed run, a Children's Walk and a 1 Mile Walk.  There will be raffle prizes, music and a free pancake breakfast.
"The experience of losing a husband to the disease and the critical life or death situation of a daughter with the disease is a life changing experience," says Carolyn Morris.  "The money we raise will fund critical PKD research to end this disease once and for all!"
To register or more information, visit the North Texas Walk for PKD/Run the Square. 
"I hear and feel the heart wrenching stories of families impacted with this disease from the baby that lived only 30 minutes or the 3 year old boy who received a kidney transplant from his mother and died last year. The PKD Foundation is the only organization world-wide with the mission to find a treatment or cure for Polycystic Kidney Disease.  I strive to make a difference by raising awareness and funds for research to find a treatment or cure for PKD," says Morris.
PKD causes cysts to grow on the kidneys, eventually leading to kidney failure. Parents with the disease have a 50 percent chance of passing it on to each of their children. Currently, dialysis and transplantation are the only treatments. Learn more at PKD Cure. 
About the PKD Foundation
The PKD Foundation is a not-for-profit organization dedicated to promoting programs of research, education, support, advocacy and awareness in order to discover treatments and a cure for polycystic kidney disease and improve the lives of all it affects.