Trailer Talk - July 26
Jul 25, 2013 11:20AM ● By tina
There will be plenty of excitement this weekend at Harkins Southlake 14 Theatres with the premiere of new action/adventure flick, The Wolverine.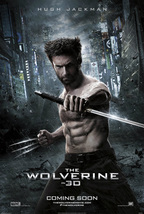 The Wolverine follows Logan on his first solo adventure to modern day Japan after he is summoned there by an old acquaintance who wishes to express his gratitude for Logan saving his life years ago. While in Japan, Logan meets and falls in love with a woman who is already promised to another man. Her father, who is a powerful crime lord, demands the relationship end immediately. Logan infuriates the father when he won't give up on their relationship. In retaliation, the father summons the Silver Samurai, Wolverine's ultimate nemesis. Wolverine is forced to come to terms with his own mortality when his healing powers are put to the test as he goes head to head with the Silver Samurai.
The Wolverine will be another film to try out in the Cine Capri with new Dolby Atmos Audio System. Dolby Atmos is a revolutionary new audio platform that immerses the moviegoer into each scene with 3D like experience for the ears. With the addition of speakers around and above moviegoers, along with control of individual speakers rather than a blended array of speakers, Dolby Atmos allows for more powerful storytelling by giving film makers precision control of the placement and movement of sound around the auditorium.
Also showing this weekend is Red 2, an adventure about retired black-ops CIA agent Frank Moses and his rag tag team of elite operatives who are on a mission to track down a missing nuclear device. An all-star cast including Bruce Willis, Helen Mirren and Anthony Hopkins return in this heart-racing action sequel.
If you bring the whole family to Bricktown this weekend, Harkins' exclusive in-lobby children's PlayCenter offers a supervised, engaging environment where children ages 3 through 8 can play games, read books, enjoy toys, and of course, watch movies, just steps from Mom and Dad's auditorium for only $6 per child!
For more information, please visit Harkins Theatres.