Lessons from the Heart
Aug 07, 2013 03:53PM ● By tina
Patty Willingham, CISD Teacher of the Year.
CISD Teacher of the Year on Connecting and Core Values
By Linden Wilson, Assistant Editor
Patty Willingham had teaching in her heart long before she graduated from elementary school. The oldest of four girls, Patty grew up helping her parents teach her twin and middle sisters, who are both deaf, how to speak and communicate with the hearing world.
"We all worked together as a family on speech and language and everything involved with that to help them be able to communicate," Patty says. "I feel like I've been teaching my whole life."
The California-born educator moved to Texas with her family at 3 years old and grew up in North Dallas. Her father, a pilot for Braniff Airways, moved the family to Southlake in 1974 after he flew over the new DFW Airport and noticed the blossoming town below. Patty, then a sophomore studying mass communications and public relations at Abilene Christian University, found herself jealous that her younger sisters had the opportunity to finish their high school careers as Carroll Dragons.
"I love smaller towns, and Dallas is anything but small," she says. "My sisters just loved it in Southlake." As soon as she graduated from college in 1977, Patty joined the staff of the now-defunct Grapevine Sun newspaper before realizing a career in teaching was the path she was meant to take. After marrying her husband, Chauncey — whom she met at a Carroll basketball game when she was 20 and he was 22 — Patty received her teaching certification from the University of North Texas and moved to Southlake. In 1980, she began working in the Carroll Independent School District and never found a reason to leave.
Always a Dragon
The 2012–2013 school year marked the end of Patty's 33-year long tenure as a respected teacher beloved in the district by parents and children alike. Throughout her career, Patty taught second, third, fourth, fifth, seventh and eighth grades at Johnson Elementary, Carroll Elementary and Carroll Middle schools, and her love for the students and the schools only grew as the years went on.
"Carroll's school district has been a true blessing to my life," Patty says. "It's the idea of family and commitment to family, tradition, values and faith — all of that is what I think Carroll ISD exemplifies. Everyone's a Dragon, starting with prekindergarten. It's the families that you really connect with. We have such great kids coming through the system, and the families always want the best for their kids. This area is just such a wonderful place to live and to educate your children." Of the three schools where Patty worked, she explains Carroll Elementary provided her with the most bittersweet memories.
"I taught Gifted and Talented classes for two years and then fourth grade for five years [up until my retirement], and I had a lot of beginnings and endings there," she says. "Both my parents passed away; my children, Justin and Katie, each got married; and I had a grandson born." Justin and Katie, who attended Carroll schools from kindergarten to 12th grade, followed in their mother's footsteps and also taught at Carroll Elementary during Patty's time there. Justin now teaches fourth grade at Johnson Elementary; Katie lives in Decatur where she teaches third grade. Even Justin's wife, Morgan, works as a fifth-grade teacher at Durham Intermediate School.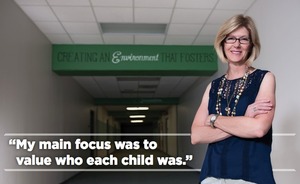 Approach to teaching
One might think that with the advancements in technology over the years — from calculators to computers to mobile-phone apps ­— that teaching methods might have evolved or adapted, but Patty says when it comes to her approach, she's always remained true to her core principles.
"My idea is that when students come through the door, that's what you have," she explains. "They are who they are. My job is not to change them — my job is to change how they look at reading or writing and the way they view education, to make sure they are prepared for the next grade and to make a connection with them so they can see the value of education and why what we're doing is important. I think to myself: What am I going to do to start at point A and end at point B by the end of the year?" Patty also stresses the importance of ensuring her students always felt appreciated.
"There are always going to be new teaching strategies, but my main focus was to value who each child was, listen to them and hear what they were saying so that they could find value in what they were doing and know that they were valued," she says.
Teacher of the Year and beyond
On May 22, Patty and more than 350 Carroll ISD employees gathered at Carroll Senior High for the Happily Ever After reception (in keeping with the year's Once Upon a Dragon theme) to honor multiple district employees as well as the annual recipients of campus and district teachers of the year awards. Entrants must first complete a comprehensive application, and winners are selected by district parents, coworkers and school-board trustees. When Patty's name was announced as the K-6 Teacher of the Year, she was stunned.
"I was thrilled but so in shock because it was just such a great group of women," Patty says. "I was honored. It was overwhelmingly wonderful." Aside from her well-deserved win, Patty received gifts from the Carroll Education Foundation, Frost Bank and Park Place Lexus, including flower arrangements, gift cards and a Lexus vehicle summer package. Although she's now retired, her love for children and commitment to education haven't diminished. Beginning this month, Patty will serve as one of two co-directors at the Grapevine Church of Christ, where she will oversee the running of the preschool.
"My plan is that I'll be in classrooms helping in whatever way I can," she says. "I'll be working with curriculum alongside the teachers and maybe doing some reading with the children. I am very excited about it." Patty adds she is also eager to have more time to garden, read, shop, invest in her church, spend with her family and travel to favorite getaways like Red River, N.M. Yet Southlake and the children she's taught over the years will forever hold a special place in her heart.
"This place has been great to me," she says. "I just love being around kids. They are so full of life, and you never know what they're going to say. I learn more from them than they could ever learn from me about life, love and truth."