Trailer Talk - August 9
Aug 09, 2013 04:33PM ● By tina
This weekend at Harkins Southlake 14 Theatres, your favorite blue mischievous friends are back on the big screen in The Smurfs 2. Also back in theatres are Hollywood A-listers, Denzel Washington and Mark Wahlberg, in the action adventure 2 Guns.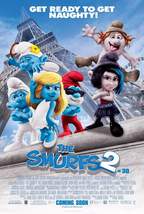 In The Smurfs 2, the evil wizard Gargamel has his sights set on harnessing the all-powerful, magical Smurf-essence and has devised a new plan to make it happen. Gargamel creates some Smurf-like creatures called the Naughties to try to capture their powers, but when he discovers that only a true Smurf can give him the power he desires, Gargamel kidnaps the only Smurf that knows the spell to turn the Naughties into real Smurfs, Smurfette.  After Gargamel kidnaps Smurfette and brings her to Paris, it's up to Papa, Clumsy, Grouchy and Vanity, along with their human friends Patrick and Grace Winslow to rescue Smurfette. Head to Harkins Theatres this weekend to see if Smurfette, who has never felt like she fit in with the other Smurfs, will stick with the Naughties or if her blue friends are able to convince her that she belongs with them.
2 Guns is the newest action adventure to hit theatres and tells the story of DEA agent Bobby Trench and U.S. naval intelligence officer Marcus Stigman, who have been reluctantly stuck together as partners to infiltrate a drug cartel. When their mission to recover millions of dollars from the cartel goes south, they are abandoned by their superiors and everyone wants them either jailed or in the ground.  With only each other to rely on, will Bobby and Marcus be able to trust each other long enough to escape their pursuers? Head to Harkins Theatres this weekend to find out!
If you're bringing the whole family to the movies this weekend, check out The Smurfs 2 or drop your children (ages three through eight) at the exclusive, in-lobby Harkins Theatres PlayCenter. Fingerprinted and background-checked professionals supervise children in a fun, engaging environment while Mom and Dad enjoy their movie just feet away. 
For more information, please visit Harkins Theatres.