Pregnancy After Age 40
Aug 13, 2013 01:47PM ● By tina
What the Celebrities Don't Tell You

Sponsored by Fertility Specialists of Texas
Written by Dr. Rebecca Chilvers
It seems like everyone is having babies these days, especially if you are struggling with infertility.  Whenever a celebrity has a baby, it graces the cover of popular magazines.  The sweet baby photos, smiling parents and doting family members are all mentioned in the articles, but what is not usually revealed is that many older celebrities decide to use younger donor eggs in conjunction with in vitro fertilization, also known as IVF, in order to conceive.  IVF involves retrieval of some eggs from a woman's ovaries, placement of sperm around the eggs and letting fertilization occur outside of the body in a lab after which the resultant embryos are transferred back into a woman's uterus or womb. While the topic might not be openly discussed, donor eggs have been making pregnancies possible, for celebrities and the general public alike, for quite some time. 
Notably, it is the fertility procedure with the highest pregnancy rate and lowest miscarriage rate because donor eggs come from young women usually under the age of 32, and so the eggs have high reproductive potential.  Statistically, the age of the egg is the most predictive factor in terms of pregnancy success.  The younger the egg, the more likely the resultant embryo will end up being genetically normal and result in pregnancy and the less likely the pregnancy is to end in miscarriage.  For example, at age 30, using one's own eggs in an IVF cycle results, nationally speaking, in a live birth rate of 45 percent and a miscarriage rate of around 10 percent. At age 40, using one's own eggs in an IVF cycle results in a live birth rate of 18 percent and a miscarriage rate of nearly 30 percent. At age 44, the live birth rate is 1 percent, and the miscarriage rate is above 50 percent.
And this procedure is not just limited to patients over 40. Why might you want to consider donor eggs?  There are numerous reasons. Note the following cases:
·       A patient who has the diagnosis of premature ovarian failure, where she runs out of eggs and stops ovulating and having periods before the age of 40. This can be sporadic or the result of a genetic syndrome such as Turner's Syndrome or Fragile X Syndrome.
·       A patient who has ovarian failure from chemotherapy and who did not have the opportunity to harvest her eggs and freeze them before treatment.
·       A patient who had to have her ovaries removed surgically.
·       A couple where one member has a familial genetic disease that they do not want to risk passing down to successive generations.
·       A patient who has undergone fertility treatments with IVF numerous times with her own eggs and has not conceived.
Using an egg donor involves selecting an egg donor from numerous profiles. We have a donor egg coordinator who helps make the process go smoothly and answers questions along the way. The chosen egg donor goes through the ovary stimulation process and the egg retrieval, while the patient who is the recipient has her uterus prepared for pregnancy and receives the embryos at the embryo transfer.
At Fertility Specialists of Texas, our pregnancy rates (and live birth rates) are well above the national average, and we are well versed in helping women conceive with in vitro fertilization using their own eggs but also using donor eggs. I perform a thorough evaluation of each patient so that they know their ovarian reserve (how many eggs they have left) and what the chances of success are using their own eggs.  Some older patients wish to try to use their own eggs before using donor egg, which is a respectable decision. When necessary, however, donor egg provides excellent chances of pregnancy and a healthy baby. 
If you think you may need donor egg IVF or would like to learn more about your own ovarian reserve and the chances of success using your own eggs to conceive a baby, then please call our office to schedule a consultation.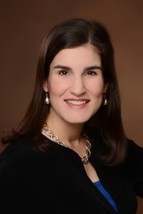 Rebecca Chilvers, M.D. is board-certified in Obstetrics and Gynecology and has completed a sub-specialty fellowship in Reproductive Endocrinology and Infertility. She received her undergraduate degree at Baylor University and her medical degree at Louisiana State University Health Sciences Center. She completed her residency and sub-specialty training at the University of Texas Medical Branch in Galveston, where she also earned a Master of Medical Science degree.
In addition to being experienced with in vitro fertilization and fertility treatments, Dr. Chilvers is one of the few women reproductive endocrinologists in North Texas who has received specialized training on the da Vinci Robotic Surgical System, a minimally-invasive option she uses for complex surgical procedures, including myomectomies and tubal reversals. Dr. Chilvers is well-versed in all aspects of infertility and enjoys helping patients with in vitro fertilization, preimplantation genetic diagnosis and fertility preservation via egg freezing.
She and her husband, Dean, currently live in Frisco with their daughter, Natalie.